Feature Story
Health Center Today, July 23, 2010
Helping Hartford's Underserved
By Chris DeFrancesco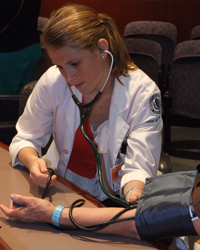 Fourth-year medical student Sarah Lombardi performs a blood pressure screening.
Photos by Chris DeFrancesco
UConn medical, dental, and pharmacy students joined Health Center clinical staff to offer free health screenings and consultations to more than 200 senior citizens as part of a collaborative effort to promote health and wellness for Hartford's underserved.
The Health Center was among more than 40 agencies, hospitals, clinics, private practices, advocacy groups and other organizations that donated staff and services at the second annual Health and Wellness Senior Expo July 22 at the Legislative Office Building.
It's the signature event of the Hartford Department of Health and Human Services' "Healthy Hartford" campaign, with an emphasis this year on healthy choices in physical activity and disease prevention.
Dr. Bruce Gould, UConn School of Medicine associate dean for primary care, served as the expo's medical director. Gould is also the Hartford HHS medical director and director of the Connecticut Area Health Education Center (AHEC) Program, one of the programs representing UConn at the event. Others include: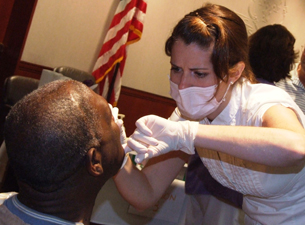 Third-year dental student and Urban Health Scholar Kerrie O'Brien conducts an oral screening.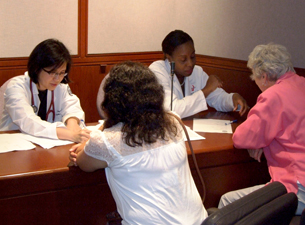 Drs. Joyce Meng (left) and Anjanette Ferris from the Calhoun Cardiology Center offer consultations.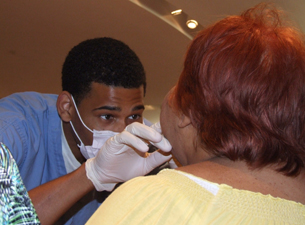 Third-year dental student Marcus Moss examines a patient at the Health and Wellness Senior Expo. Moss is also an Urban Health Scholar – part of a UConn program for students on a path of study focusing on serving underserved patient populations.