Feature Story
Health Center Today, July 15, 2010
The Search for a New President Begins
By Michael Kirk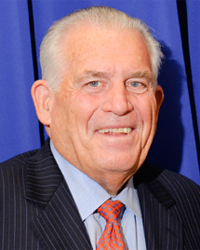 Lawrence McHugh, chairman, Board of Trustees
UConn Board of Trustees chairman Lawrence McHugh has announced the formation of a committee charged with leading the search for the University's next president. The committee includes trustees, faculty members, student leaders, staff, administrators, alumni, and state and local officials, as well as representatives from the private sector.
"This is a broad-based committee that reflects the University's many stakeholders and constituent groups," said McHugh, who will also chair the committee. "Our mission is to conduct a very inclusive search that creates as diverse a candidate pool as possible as we move forward with the process."
McHugh said he expects that the search will take several months. During that time, UConn will continue to be led by interim president Philip Austin, who began on June 11, until a new president is selected and begins his or her tenure.
The committee is scheduled to meet for the first time on July 15. After interviewing candidates, the group will make recommendations that will be voted on by the board.
The search committee members are:
| | |
| --- | --- |
| M. Jodi Rell | Governor |
| Francis X. Archambault, Jr. | Board of Trustees |
| Louise M. Bailey | Board of Trustees |
| Pamela Bramble | Faculty Member and University Senate Executive Committee |
| Gerard N. Burrow | Chair, UConn Health Center Board of Directors |
| Mun Choi | Dean, School of Engineering |
| John Clausen | Faculty Member & University Senate Executive Committee |
| Richard Colon, Jr. | Graduate Student Representative to the Board of Trustees |
| Andrea Dennis-LaVigne | Board of Trustees |
| Peter S. Drotch | Board of Trustees |
| Karla Fox | Faculty Member and University Senate Executive Committee |
| Hedley Freake | Faculty Member & University Senate Executive Committee |
| Thomas Haggerty | Undergraduate Student Government President |
| Jeffrey Hathaway | Director of Athletics |
| Anne Hiskes | Faculty Member and University Senate Executive Committee |
| Kent Holsinger | Faculty Member and University Senate Executive Committee |
| Timothy Holt | UConn Health Center Board of Directors; President, UConn Foundation |
| Lenworth M. Jacobs | Board of Trustees |
| Joseph F. Jaemel, Jr. | Chief Operating Officer, Rockville Bank |
| Bruce Liang | Faculty Member, UConn Health Center |
| Charles Lowe | Faculty Member and University Senate Executive Committee |
| Jacqueline Mandyck | Deputy Commissioner, Department of Consumer Protection |
| Lawrence D. McHugh | Board of Trustees, Chair |
| Lee Melvin | Vice President for Enrollment Management and Planning |
| Carol Millette | American Federation of State, County and Municipal Employees (AFSCME) |
| Frank Milone | Alumni |
| Lisa Moody | Governor's Chief of Staff |
| Jeffrey Ogbar | At-large Faculty |
| Betsy Paterson | Mayor of Mansfield |
| William J. Pizzuto | Waterbury Regional Campus Director |
| Sally Reis | At-large Faculty |
| Susan Reisine | Faculty, UConn Health Center |
| Thomas D. Ritter | Board of Trustees |
| Nancy Rodriguez | At-large Faculty |
| Kathleen M. Sanner | UConn Professional Employees Association (UCPEA) |
| Pat Sheehan | Sheehan Group, Senior Vice President/Investment Branch Manager |
| Susan Spiggle | Faculty Member and University Senate Executive Committee |
| Jeremy Teitelbaum | Dean, College of Liberal Arts and Sciences |
| Robert M. Ward | Board of Trustees |