RSS
Coast to Coast Riders on WTIC Radio

Loreen, Stacy, Alex and Arturo discussed their upcoming cross-country bike trek on WTIC's "Face Connecticut" program on June 6, 2010.
Media Coverage
Feature Story
Health Center Today, July 8, 2010
Medical Students Pedaling Through Desert to Fight Leukemia
By Chris DeFrancesco
The 2010 Coast to Coast for a Cure team is making its way east. Nearly three weeks into their cross-country bicycle trek, Loreen Fournier, Arturo Montano, Alex Ocampo and Stacy White had made it to Boulder, Utah.
The four rising second-year medical students started their long pedal home in San Francisco June 17, and have been posting updates, complete with photos of the scenery, on a blog: http://coasttocoastforacure2010.blogspot.com. They expect to return to Connecticut by the second week of August.
Coast to Coast for a Cure has become an annual fundraising event to benefit benefit Lea's Foundation for Leukemia Research, a Hartford nonprofit and philanthropic supporter of the Neag Comprehensive Cancer Center. The ride, now in its fifth year, covers more than 4,000 miles.
The riders ask anyone who wishes to support them to consider making a contribution through www.leasfoundation.org or by mail via a downloadable sponsorship brochure.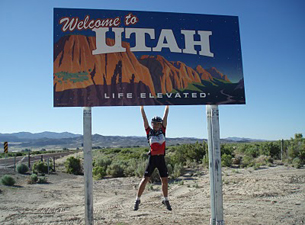 After pedaling through California and Nevada, Arturo Montano is elated to make it to Utah.
Photos courtesy of
the Coast to Coast for a Cure 2010 Blog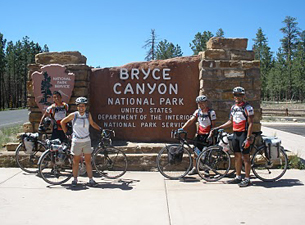 From left: Alex Ocampo, Loureen Fournier, Arturo Montano and Stacy White make a stop at Bryce Canyon National Park in Bryce Canyon, Utah. See more photos on the riders' blog.