RSS
Watch the Video

Watch the presentations and panel discussions.
The forum also was recorded for broadcast
by CT-N.
Feature Story
Health Center Today, June 9, 2010
Forum Furthers Discussion on Aging Workforce
By Chris DeFrancesco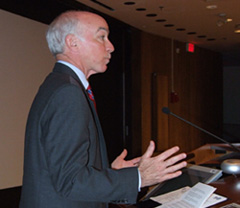 U.S. Rep. Joe Courtney emphasizes the importance of investment in research and public health initiatives at the "Healthy Aging and Work" forum June 7 in Keller Auditorium.
Photos by Chris DeFrancesco
The Connecticut workforce has the country's highest proportion of older workers. Two-thirds of people age 55 to 64 are still working. The workforce participation rate of 65-to-74-year-olds exceeds the national average by nearly 25 percent. Both in Connecticut and nationally, the participation of older workers in the active workforce has risen rapidly, and that's expected to continue.
Trends like these have been the focus of work by the Center for the Promotion of Health in the New England Workplace (CPH-NEW), a research collaborative between the Universities of Connecticut and Massachusetts. On June 7, CPH-NEW and the UConn Health Center's Center on Aging held a regional forum on workforce health and aging at the UConn Health Center.
"We are seeing a very significant demographic age shift, which is going to be continuing for at least the next 15 to 20 years," says Dr. Martin Cherniack, the UConn chair of CPH-NEW and organizer of the forum. "The fastest-growing part of our workforce is age 55 and older."
The idea was to bring together researchers, elected officials, policymakers, governmental and non-governmental organizations, regional employers and others with a stake in maintaining a healthy older workforce. The discussions centered on the advantages older workers bring to their employers, the importance of optimal workplace conditions, and programs and resources for employers to promote healthy workplaces and sustain healthy aging at work.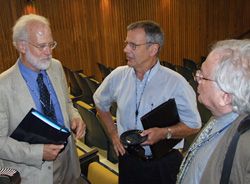 Dr. Martin Cherniack (right) organized the regional forum, moderated by Dr. David Wegman, chair of the National Academy of Science Commission on the Aging Workforce (left).
Dr. John Howard, director of the National Institute for Occupational Health, Dr. Marie Bernard, deputy director of the National Institute on Aging, and U.S. Rep. Joe Courtney discussed national research and policy on aging and work. The second panel focused on regional issues around work and aging, and included State House Speaker Chris Donovan, Connecticut Commission on Aging Executive Director Julia Evans-Starr, Dr. Jewel Mullen from the Massachusetts Department of Public Health, Mary Kay Brown from the UMass Medical School, and Nancy Snyder from the Commonwealth Corporation. Cherniack expects the exchange of ideas to lead to an ongoing dialogue about the research needs in this area, one that engages elected officials and policymakers. CPH-NEW plans to complete a white paper based on the forum.