Feature Story
Health Center Today, June 18, 2010
Local Artists Showcase Talents at Lewitt Gallery and Main Lobby
By Carolyn Pennington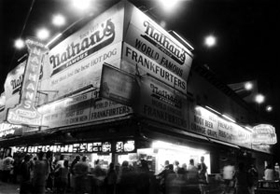 Coney Island Love Affair photograph by Lou Russo.
Color and Coney Island Share the Spotlight at LeWitt Gallery
What: Being in the Moment paintings by Catherine M. Elliott and Coney Island Love Affair photographs by Lou Russo
Where: Celeste LeWitt Gallery
When: Now through August 4, 2010, daily 8 a.m. to 9 p.m.
About the artists:
Catherine M. Elliott of Simsbury is a contemporary artist whose work is evocative of the American Impressionism style of painting. She states her paintings are primarily of atmospheric and light conditions that depict the grace and elegance of the New England countryside. This exhibit explores and represents her love of color.
"My goal is to capture a moment of time and place with color and form to invoke the viewer to 'see' the sublime," says Elliott. "Even before I begin a work, I'll have a good idea of what I want to achieve on the canvas. Of course a few diversions are welcome along the way. That's what keeps the creative process fresh and alive,'' says the artist.
Elliott's work won the Grand Prize at the West Hartford Art League's CT+5 show in 2009. Elliott has created numerous commissioned pieces, both commercial and private. She is an elected member of the Lyme Art Association in Old Lyme. She is currently represented by 12 galleries throughout New England and Ireland. She also teaches painting workshops and is a book illustrator.
Lou Russo of West Hartford, studied communications and film in college and after working in television as a videographer and producer, went on to attend the Hallmark Institute of Photography in Massachusetts. There he found himself more and more interested in the process of storytelling through photography.
"What I'm drawn to most is photographing life as it happens, moments in time that catch my eye and make me want to share my experience with others," says Russo, a Brooklyn, New York native. "It's how I felt each time I found myself on Coney Island. I wanted others to see this place that I've always been so intrigued with."
Russo's work was recently awarded the Rhode Island School of Design Award at the West Hartford Art League's CT+5 show. His fine art photography has been exhibited in galleries and art spaces in Manhattan, Chicago, Miami, San Antonio and many other cities. A self-published book of his Coney Island images is in the works.
Art Curator and Restorer Exhibits Paintings in Main Lobby
What: Places of the Spirit by Nancy Bolgard
Where: Main and Mezzanine lobbies
When: Now through July 28, daily 8 a.m. to 9 p.m.
About the artist:
Farmington artist Nancy Bolgard works in oils, acrylics, oil pencils, pen and ink, and watercolors. She favors traditional scenes found in New England, New York's Catskill Mountains, as well as other locations around the country and abroad. Also an art conservator and restorer, she worked with Metropolitan Museum of New York conservator Anne Marie Chudlinski. Among Bolgard's numerous restoration projects are the four murals depicting the history of Wethersfield at the town's Keeney Center.
She studied classical art at the Corcoran School of Art in Washington, D.C., commercial art and design at Paier College of Art, and earned her bachelor's and master's degrees in history and art education from Central Connecticut State University. While teaching in the Wethersfield school system, Bolgard incorporated artistic projects to highlight art's importance in archaeological and cultural history.
The artist has exhibited at the Lyme Art Association, the Glastonbury and the Southington art shows, the Town and Country Club of Hartford, and various galleries. Her drawings and paintings are in private collections across the country and also in Great Britain, Turkey and Korea. Bolgard is a member of the Lyme Art Association and the Glastonbury Art Guild.