Feature Story
Health Center Today, June 25, 2010
Auxiliary Presents More Scholarships, Awards
By Chris DeFrancesco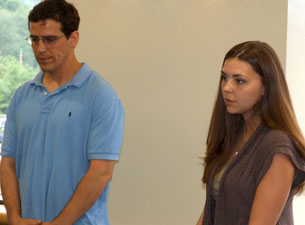 Ph.D. students William Ratzan and Katie Lowther are past recipients of short course travel awards from the Auxiliary. They attended the annual meeting to describe how the support enabled them to further their studies. Ratzan studied at Fukuoka Women's University in Japan to advance his thesis research on fertilization. Lowther attended the"Frontiers in Reproduction" course at the Marine Biological Laboratory in Woods Hole, Massachusetts.
Photos by Chris DeFrancesco
The UConn Health Center Auxiliary formally presented another $50,000 in scholarships at its annual meeting June 22.
Medical students ($5,000)
Yvonne Chu
Alexandra Czap
Jessica Fuhr
Michael Kelleher
Dental students ($5,000)
Esther Gonzalez
Hannah Hughes
Graduate students ($5,000)
Amanda McManus, master of dental sciences
Christine Turner, master of public health
Nursing students ($2,500)
Amanda Ciervo
Katarzyna Tesz
The Auxiliary also is providing $5,000 in travel money for Ph.D. students.
Additionally, Marc Lalande, senior associate dean for research planning and coordination, accepted a $5,000 award from the Auxiliary for equipment in the Cell and Genomic Sciences Building, due to open later this year at 400 Farmington Ave.
Facilitator Irene Engel highlighted the Auxiliary's most recent endeavors, including "The Family Place" and "WHALE" programs, and the group's involvement with the American Mural Project.
More information about the UConn Health Center Auxiliary is available at http://auxiliary.uchc.edu.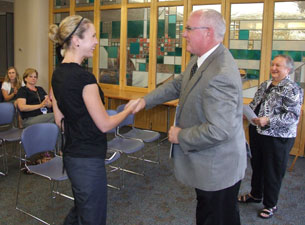 Dr. Monty MacNeil, dental school dean, presents a scholarship on behalf of the Auxiliary to master of dental sciences student Amanda McManus.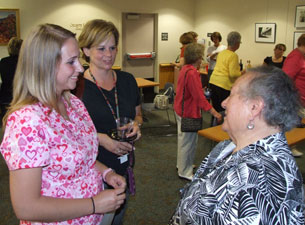 Nursing scholarship recipient Amanda Ciervo (left) and her mother, Holly, thank Auxiliary Facilitator Irene Engel. Amanda is studying at Central Connecticut State University.