RSS
Watch the Video
Feature Story
Health Center Today, June 2, 2010
Calhoun Cancer Challenge Ride and Walk
By Carolyn Pennington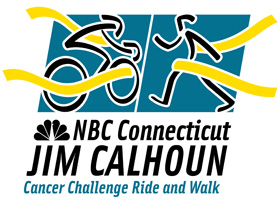 The NBC Connecticut Jim Calhoun Cancer Challenge Ride and Walk takes place Saturday, June 12 in Simsbury. The annual statewide event benefits The Carole and Ray Neag Comprehensive Cancer Center and Coaches vs. Cancer, a program established in 1993 by the American Cancer Society.
This year, for the first time, there is a 5K walk, which is open to everyone. The bike ride is open to anyone over the age of 14 who wants to join Coach Calhoun in the fight against cancer. There will be non-competitive rides of 10, 25, 50 and 75 miles. The Health Center has four teams participating this year.
Fritz Free Riders – Team Captain Joyce Fritz
UConn Rosenkrantz Riders – Team Captain Ted Rosenkrantz
Neag Comprehensive Cancer Center – Team Captain Jody Blumberg
Calhoun Cardiology Center – Team Captain Peter Schulman
To support a UConn team or to register for the ride/walk, visit www.calhounride.com. Online registration deadline for individuals and teams is noon on June 11, 2010. The fee to register to ride is $30 (the entry fee does not count toward your fundraising minimum).
Offline donations should be made payable to "The UConn Foundation, Inc." and mailed to:
Jim Calhoun Cancer Challenge Ride
c/o Gold, Orluk & Partners
P.O. Box 1177
Avon, CT 06001
For additional information please see http://www.foundation.uconn.edu.
Also this year, members of the Health Center dermatology department will be offering free skin cancer screenings to riders, walkers and volunteers.