Feature Story
Health Center Today, June 4, 2010
5th Coast to Coast Team Preparing to Pedal for a Cause
By Chris DeFrancesco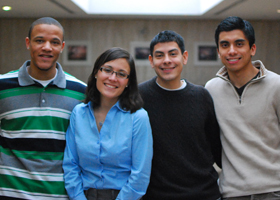 From left: Stacy White, Loreen Fournier, Arturo Montano and Alex Ocampo are the fifth team of first-year UConn medical students to embark on a cross-country bike trek to raise money for Lea's Foundation for Leukemia Research.
Four UConn medical students are spending their summer pedaling across the country to raise money for research of leukemia and other blood disorders.
Coast to Coast for a Cure 2010 is the fifth such ride to benefit Lea's Foundation for Leukemia Research, a Hartford nonprofit and philanthropic supporter of the Neag Comprehensive Cancer Center.
Loreen Fournier, Alex Ocampo, Stacy White and Arturo Montano make up this year's team, carrying on what has become an annual tradition for first-year students going back to 2006. The academic calendar does not include a lengthy summer break once students return for their second year of medical school, so the riders have dedicated their last "free" summer to this cause.
Like the Coast to Coast teams before them, Fournier, Ocampo, White and Montano will fly to San Francisco, assemble their bikes, and dip their wheels in the Pacific Ocean. They start the 4,000-mile, eight-week journey home June 17. Along the way they'll maintain a blog to regularly update their progress: http://coasttocoastforacure2010.blogspot.com.
A sendoff ceremony will be held for the riders Monday, June 7, at 1:15 p.m. in the center courtyard. On Wednesday, June 9, the riders will have a table in the Food Court to provide more information about their ride and accept sponsorships, donations and well wishes. Donors from the Health Center Community are eligible for a raffle drawing, with prizes including a Coach satchel bag, a Coach envelope wallet, and two one-day kayak rentals for two from EMS in Manchester.
Donations also can be made before, during or after the ride through www.leasfoundation.org or by mail via a downloadable sponsorship brochure.