RSS
Feature Story
Health Center Today, June 4, 2010
Gov. Rell Signs Legislation to Renovate John Dempsey Hospital and Build New Patient Tower
By Carolyn Pennington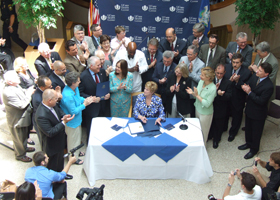 Gov. M. Jodi Rell signs legislation establishing the UConn Health Network.
Photo by Chris DeFrancesco
Gov. M. Jodi Rell has signed into law a plan to revamp and expand John Dempsey Hospital and establish the UConn Health Network, a landmark health care partnership with hospitals in the region. The signing ceremony took place in the Academic Lobby in front of an audience including legislators, hospital CEO's, and Health Center employees.
The $362 million project includes renovating the 35-year-old John Demspey Hospital, building a new patient tower, and increasing classroom and lab space for the medical and dental schools.
The plan also includes $30 million in funding for the UConn Health Network, a series of teaching and research initiatives involving other area hospitals. The entire project is expected to be an economic generator for the state, eventually creating 5,000 jobs and boosting the reputation of the UConn medical and dental schools.
"It is an investment that will create jobs and opportunities for Connecticut's health care industry," said Rell. "The network gives us the potential to establish a world-class cancer institute, attract the finest researchers in the nation and put our flagship university on firm footing for a very promising future."
Medical school dean and vice president for health affairs, Dr. Cato Laurencin, thanked the governor and members of the General Assembly for proposing and passing the legislation, describing it as a "forward-thinking initiative that will maintain and create jobs in healthcare and bioscience industries and help to transform the Hartford region into a medical destination for years to come."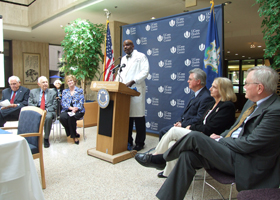 Dr. Cato Laurencin, dean of the medical school and vice president for health affairs, speaking during the bill signing ceremony.
UConn will now move ahead with plans and design work for the Dempsey renovation and construction, a process that is estimated to take 18 months to two years.
"I can tell you with confidence that the entire state can take great pride in the John Dempsey Hospital and the extraordinary care our doctors, nurses and healthcare professionals provide right here, every day," said Laurencin. "As an integrated academic medical center, we are already at the forefront in the fight against cancer, heart disease, bone disease and much more. The renewal plan will help us move our hospital – deemed recently as a 'jewel on the hill' – to an even higher level of care and service to our state, our students and the region."
The UConn Health Network money will support a regional primary care institute being developed at Saint Francis Hospital and Medical Center in Hartford and a regional simulation center at Hartford Hospital which will allow health professionals to practice techniques using advanced technologies.
The Hospital of Central Connecticut is also moving ahead with plans for its cancer program, and UConn officials are working on plans for a regional cancer program and a center aimed at studying and eliminating health disparities.
Another part of the plan, a bioscience enterprise zone aimed at attracting businesses to the area, will begin July 1 of this year. It includes Hartford and parts of Farmington, Bristol and New Britain.
The estimated $362 million dollar cost includes $237 million in borrowing. Twenty-five million of that will be shifted from bonds originally earmarked for other UConn projects. Connecticut is also applying for a $100 million federal grant.
If the state doesn't receive the grant -- which was included in the federal health care reform legislation -- officials will look to other sources, including philanthropy. The law establishes June 30, 2015 as the deadline for receiving the $100 million.