Feature Story
Health Center Today, June 16, 2010
UHC Recognizes Safety Project
By Maureen McGuire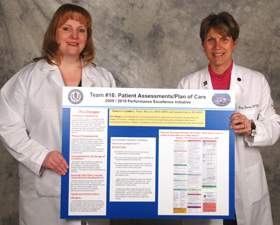 Amanda Darcey (left) and Nancy Baccaro.
Photo by Janine Gelineau
A far reaching quality improvement project designed to continually assess patients' conditions throughout their hospital stay recently gained national attention.
The initiative was created as result of recommendations by the Massachusetts General Hospital consultants and implemented in 2009 by Amanda Darcey, a clinical nurse specialist, and Nancy Baccaro, an oncology nurse practitioner. Together, they updated and disseminated corresponding nursing policies and procedures, developed an accessible pocket manual and implemented a daily rounds schedule to ensure consistent assessment of patient conditions. In particular, this system looks at conditions such as risk of falls, changes in skin, levels of pain and more.
Darcey and Baccaro initially staffed the daily rounds, ultimately transitioning that role to the nursing staff on each floor. As part of the overall structure, a regular audit system was included to ensure ongoing compliance. The process is now in place on all units, with the exception of the NICU.
In the fall, Darcey and Baccaro's work will be honored by the University Health System Consortium (UHC) during a poster presentation at the UHC annual meeting in San Diego. The mission of the UHC is to advance knowledge, foster collaboration, and promote change to help university hospitals across the country achieve clinical excellence.
"Everyone put a lot of work into this process -- the team leaders, assistant nurse managers on all the floors, administrators and all of our colleagues who are part of the All Hands on Deck movement," Baccaro said. She noted that it was gratifying to get to know nursing staff throughout the hospital during the process. "I appreciate and admire their work on a different level now," she added.
Darcey noted that one of the most important steps in the process was working closely with bedside nurses – the direct link to patients.
"Nancy and I needed to develop a systemized approach to reviewing nursing assessments that included the bedside nurse. The inclusion and contact with the bedside nurse, though only a few minutes, was an incredible opportunity for education and growth. The nurses here at JDH do amazing work everyday, and this process helped them to shine," she added.
While Darcey originally created the poster presentation for the Health Center's Health and Safety Fair, she and Baccaro decided to submit it for consideration to the UHC.
"It is not surprising that a quality initiative that successfully engaged and empowered staff throughout the hospital would be recognized by UHC. We are so proud of the work Nancy and Amanda led to institute this process and the work of our staff every day to keep it active and meaningful," said Ellen Leone associate vice president, clinical operations and chief nursing officer, who assigned this project to Baccaro and Darcey.
Meanwhile, the hospital's Quality Programs Department is leading a number of ongoing initiatives aimed at continually refining and advancing the hospital's overall commitment to excellence, Leone noted.