Feature Story
Health Center Today, June 8, 2010
Medical and Dental Students Present Teaching Awards
By Chris Kaminski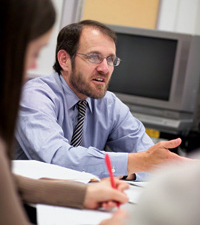 Dan Henry, M.D.
The 36th annual presentation of the Charles N. Loeser and Golden Camel Awards recently took place at the UConn Health Center. The awards were presented by the Class of 2012 medical and dental students for excellence in basic medical science teaching.
Dr. Dan Henry, Department of Medicine, was the recipient of this year's Loeser award. The award is presented to a faculty member who has the ability to evoke in students an enthusiasm for learning and a desire to emulate their own attributes of scholarly curiosity, and who gives wholeheartedly of themselves to advance the welfare and education of their students.
The Committee Award for Meritorious Educational Leadership (CAMEL) is given to the subject committee that "promotes a stimulating learning experience and, in its organization, presentation of material and overall level of teaching, has afforded the students an invaluable opportunity to learn and understand basic medical sciences. This year's award was presented to the Homeostasis Segment of Mechanisms of Disease-2 (MOD-2) directed by Dr. Robert Bona, Department of Medicine.
Awards were also given to five faculty members in recognition of their excellence in teaching. The awardees were:
Dr. Robert Bona, Department of Medicine
Dr. Kevin Dieckhaus, Department of Medicine
Dr. Richard Lindquist, Department of Pathology and Laboratory Medicine
Dr. TV Rajan, Department of Pathology and Laboratory Medicine
Dr. Richard Zeff, Department of Immunology