Feature Story
Health Center Today, June 14, 2010
Vascular Surgery Pioneer Visits Health Center
By Chris DeFrancesco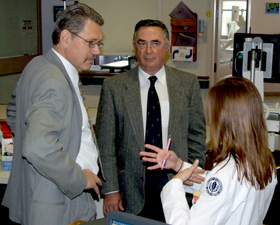 Dr. Juan Parodi (center) observes as Dr. Michael Dahn (left) discusses one of his cases on the seventh floor of John Dempsey Hospital.
Photo by Chris DeFrancesco
Dr. Juan Parodi, a vascular surgeon credited with modernizing how potentially fatal aneurysms are treated, visited the Health Center June 8 as the guest of Dr. Michael Dahn, professor of surgery and director of the Endovascular Services Program in the Departments of Surgery and Radiology. Parodi was in Connecticut to address the Hartford Vascular Society that evening.
"The aortic endografting technique Dr. Parodi introduced in 1992 started a revolution in vascular surgery which has allowed minimally invasive treatment for abdominal aortic aneurysms," Dahn says. "Not only is it a safer approach to aneurysm control, but the techniques utilized for the procedure triggered the popularity of endovascular surgery, which is the most common approach in the management of peripheral arterial disease."
An abdominal aortic aneurysm weakens the wall of the bodyís largest artery and, untreated, can cause it to rupture. A ruptured aorta is fatal more than 70 percent of the time.
It never came to that with Anthony Foto, 75, of East Hampton. Last year Dahn performed an aortic endograft Ė through an incision in the groin, placing a stent to prevent a rupture Ė to treat Fotoís abdominal aortic aneurysm.
"They did everything from the outside," Foto says. "Physically, I havenít had a problem getting around, doing what I want to do. The only thing I canít do is walk long distances, and thatís only because of the arthritis."