RSS
Aging Research Day Poster Winners
Clinical Research Category

Maren Fragala, Ph.D., for "Gender Differences in Anthropometric Predictors of Physical Performance in Older Adults"

Neer Zeevi, M.D., for "Interventional Stroke Therapies in the Elderly: Are We Helping?"
Basic Research Category

Rosa Guzzo, Ph.D., for "Regulation of Twist1 Expression for the Normal or Pathologic Function of Articular Cartilage"

Nivetha Murugusan for "Brain Regional Angiogenic Potential in the Aging Cerebral Microvasculature"
Feature Story
Health Center Today, March 2, 2010
A Day Focused on Aging Issues
By Carolyn Pennington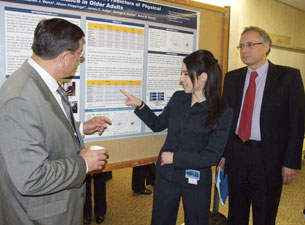 Left to right: Carl Maresh, head of kinesiology in Storrs; Maren Fragala, Ph.D., explaining her research poster; and George Kuchel, director of Center on Aging.
The University of Connecticut held its first Aging Research Day at the Health Center on March 1. The theme of the meeting was "Translational Approaches to Healthy Aging: Journeys from the Community to the University and Back."
There were nearly a dozen presentations from faculty representing five different UConn schools. The three main categories of speakers focused on clinical research, basic science, and behavior or community based research.
"In today's research climate, it is absolutely essential to take multidisciplinary approaches to issues," says Dr. George Kuchel, director of the UConn Center on Aging and organizer of the conference. "For us to be truly competitive with other programs nationally we need to bring in areas of strength like nursing, social work, psychology, as well as basic scientists."
Even though there is already a lot of collaboration going on between the different disciplines and across campuses, Kuchel says they want to do even more. "The reason to do this conference is to bring our strengths together in preparation for applying for institutional training grants, program projects, etc., so everyone becomes more familiar with what research is being done by different groups and disciplines.
The keynote speaker for the conference was Dr. Linda Fried, dean of the Mailman School of Public Health at Columbia University. Her lecture focused on "Translational Insights into Frailty, a Defining Geriatric Syndrome."
Julia Evans Starr, the executive director of the Connecticut State Commission on Aging, applauded the conference and reiterated the need for it. "There are one million baby boomers in the state – that is one-third of Connecticut's total population. In the years ahead, these aging baby boomers will have a tremendous impact on the state and its resources."
Starr added that the research being done now will help policy-makers make their decisions for the future. As an example, she referenced the important collaboration with the Center on Aging's Julie Robison and Noreen Shugrue in researching and formulating the Long Term Care Needs Assessment Study that has helped shape legislative policy since it was unveiled nearly three years ago.
Kuchel says he would like to make Aging Research Day an annual event.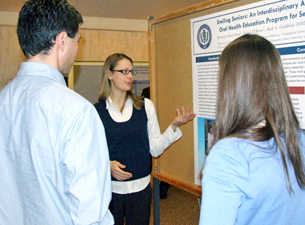 Second year dental student, Brittany Sonnichsen, describes her poster presentation.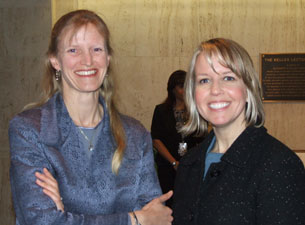 Left to right: Julie Robison, UConn Center on Aging, and Julia Evans Starr, executive director of the CT Commission on Aging.