RSS
Feature Story
Health Center Today, March 15, 2010
Dental Students and Faculty Volunteer at Mission of Mercy Free Dental Clinic
By Carolyn Pennington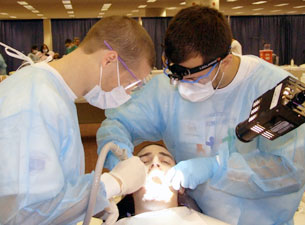 Brandon Beaudoin (left), second year dental student, and Ibrahim Shihadeh, fourth year student, perform oral surgery on patient.
More than three dozen students, residents and faculty from the UConn School of Dental Medicine volunteered their time and expertise at this year's Mission of Mercy in Middletown. The Connecticut Mission of Mercy is a large-scale dental clinic where dental treatment is provided at no cost to individuals who cannot afford dental care. An estimated 2,000 patients were seen during the two day event.
Services provided included cleanings, fluoride treatments, sealants, digital x-rays, fillings, extractions, root canals, and interim partial dentures. The UConn dental students worked mostly in oral surgery and local anesthesia areas. Fourth-year students were "shadowed" by second and third year students in oral surgery. Faculty had the double responsibility of supervising students and treating patients. Local anesthesia was mainly administered by second year students. In fact, the anesthesia course for second year students is now offered earlier in their curriculum so that more students can volunteer at the Mission of Mercy clinic.
Dr. Jeff Simpson, a private practice dentist in Putnam, was the team leader for the numbing station where they administered anesthesia to over 900 patients, with the students handling 85 to 90 percent of them. "All of my private practice docs many times throughout both days commented to me how professional the students were," said Simpson. "I also gathered that my experiences with the students weren't atypical, as during the team leader meeting that we had after the treatment day ended, it was brought up by multiple team leaders what an outstanding job the students did."
The first Mission of Mercy took place in Tolland in 2008 where approximately 1,100 patients were seen, and $500,000 worth of dental care was provided. Last year's Mission of Mercy, held in New Haven, treated 1,800 patients and $750,000 worth of dental care was provided. An estimate is not yet available for the amount of care delivered this year.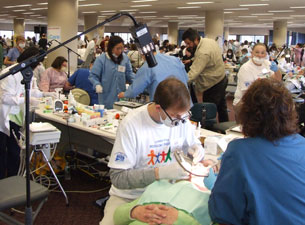 An estimated 2,000 patients received free dental care at the Mission of Mercy event in Middletown.
Aurora Dibner (left) and Amy O'Callaghan, fourth year students, volunteered their time in the oral surgery area.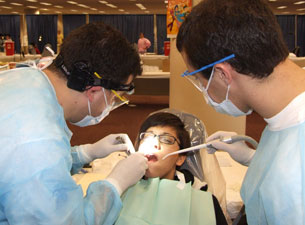 Treating a patient who needed oral surgery are Zack Goldman (left), fourth year student and Alex Botwick, second year student.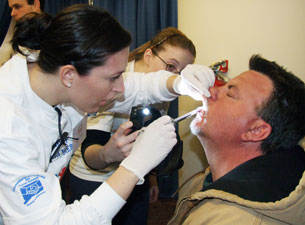 Jessica Wilson and Jennifer Merry (left to right), second year dental students, give anesthesia to patient at Mission of Mercy clinic.