RSS
Watch the Video
Feature Story
Health Center Today, March 19, 2010
Match Day a Success for UConn Medical Students
By Carolyn Pennington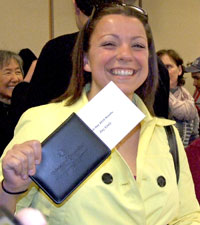 Amy Kiraly, fourth-year medical student from Watertown, holds the letter that will reveal where she will be doing her residency. Kiraly has been accepted into the emergency medicine program at Northwestern, her first choice.
Match Day was a great success for students at the University of Connecticut School of Medicine as 97 percent secured residencies through the National Residency Match Program. The national average is 93 percent.
Primary care residency programs, mostly internal medicine and pediatrics, accounted for 35 percent of the students. Emergency medicine, obstetrics and gynecology and psychiatry were the top three programs for the remaining 65 percent of students. The majority of the class, 54 of the 75 students, will stay in the Northeast, with 16 remaining in Connecticut.
"Year after year, our students match to the most prestigious residencies in the country, and this year is no exception. We're extremely proud of them," says Dr. Anthony Ardolino, associate dean of medical student affairs.
Match Day is conducted annually at medical schools across the country to match students with residency programs and fill the available training positions at teaching hospitals around the country.
Match Day was equally successful for UConn's dental students. Ninety percent of the Class of 2010 will pursue advanced training in various postdoctoral programs compared to approximately 40 percent annually. The majority of students will be doing general practice residencies.
Christopher Sala (left) of Stamford and Tobias Wasser of New Milford, open their envelopes to find out which residency programs they'll be attending. Sala will stay at the UConn Health Center in the emergency medicine program and Wasser will attend the psychiatry program at Yale University.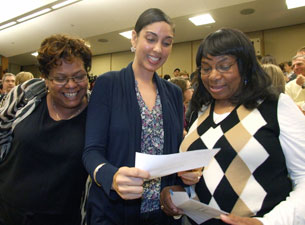 Charlecinth Yennie (center), a fourth-year student from Hartford, along with family members, is happy to learn she has been accepted into the family medicine residency program at the UConn Health Center and St. Francis Hospital and Medical Center.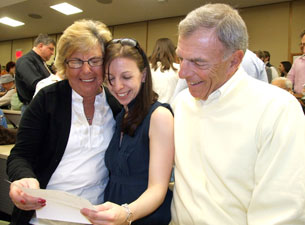 Mariann Nocera (center), a fourth-year student from Cheshire, along with her parents, is pleased to learn she was accepted into the pediatric residency program at Yale University, her first choice.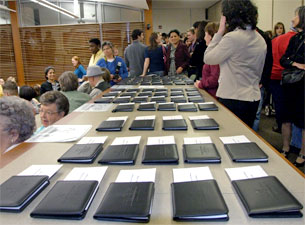 The 75 Match Day letters, arranged in alphabetical order, which will reveal where the fourth-year medical students have been accepted or "matched" into residency programs.