RSS
Watch the Video

Dr. Joseph Anderson, gastroenterologist, talks about the importance of colorectal cancer screening and a unique technique he uses to find early cancers of the colon.
Media Coverage
Feature Story
Health Center Today, March 17, 2010
Physician, Coaches Urge Connecticut to 'Stay in the Game'
By Chris DeFrancesco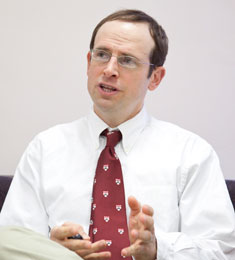 Dr. Joseph Anderson is the physician spokesman for a new statewide colorectal cancer awareness campaign.
A new statewide campaign to encourage people to get screened for colorectal cancer features several UConn coaches and Dr. Joseph Anderson, associate professor of medicine and clinical director of the Colon Cancer Prevention Program within the Neag Comprehensive Cancer Center .
The Department of Public Health enlisted Anderson, a co-author of the latest American College of Gastroenterology guidelines for colorectal cancer screening, to be the physician spokesman for the campaign. Called "Stay In The Game CT," it involves television and radio public service announcements, an interactive Web site, and a live CPTV television special with Anderson serving on a panel of health care experts.
The PSAs feature Anderson and members of the UConn women's basketball coaching staff, including head coach Geno Auriemma, associate head coach Chris Dailey, and assistants Shea Ralph and Marisa Moseley.
Combining two themes associated with the month of March – Colorectal Cancer Awareness Month and the heavy college basketball tournament schedule that's become known as "March Madness" – DPH introduced "Stay In The Game CT" with a sports motif. The involvement of the coaches and the "best defense is a good offense" analogy are designed to urge people to "stay in the game" by being proactive and getting the recommended screenings.
"If we can prevent colon cancer today, we don't have to treat it tomorrow," Anderson says. "It sounds so simple, but that's because it is. And the best way to do it is to get screened."
The campaign encourages people to follow the recommendations for screening, which for a majority means a first screening at age 50. Some, particularly African Americans or those with a family history of colon cancer, should talk to their doctor about starting at a younger age. But race and relatives aren't the only factors.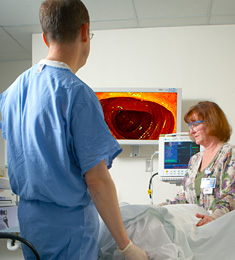 "While family history indeed is a concern, our research continues to affirm that behavior modification in many cases is a bigger concern," Anderson says. "For instance, in women, family history as a risk factor is outweighed by obesity and smoking."
Doctors weigh the individual risk factors with the results of the first screening to determine when the patient should return for the next screening. It often is 10 years, but in some cases, it could be three years or even sooner.
In Connecticut, colorectal cancer is the fourth most common cancer diagnosed in men, the third most common cancer diagnosed in women, and the third leading cause of cancer-related death in both men and women, according to DPH. The latest available statistics show 30 percent of Connecticut residents over the age of 50 had never been screened by colonoscopy or sigmoidoscopy.
The Web site, www.stayinthegamect.com, includes an "Ask the Doctor" page, with Anderson's responses to frequently asked questions as well as questions submitted by site visitors. The site will be updated throughout the year
The CPTV production "Confronting Colorectal Cancer" premieres Wednesday, March 24, at 8 p.m. on CPTV, with rebroadcasts scheduled for Friday, March 26, at 10 p.m.; Sunday, March 28, at 2:30 p.m.; and periodically through the rest of 2010.