Feature Story
Health Center Today, May 5, 2010
Senate Passes $362 Million Measure to Renovate Hospital and Construct New Patient Bed Tower
By Carolyn Pennington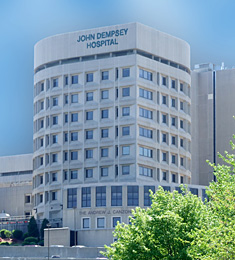 John Dempsey Hospital
Plans to renovate John Dempsey Hospital and build a new patient care tower won final legislative approval Tuesday night. The Senate passed the $362 million measure in a 28-7 vote, following a House vote several days earlier. The bill now heads to Gov. M. Jodi Rell, who has pledged to sign it.
"This is a significant legislative victory for the Health Center and the entire University," said Dr. Cato T. Laurencin, the Health Center's vice president for health affairs and dean of the UConn School of Medicine.
Laurencin thanked the "multidisciplinary team" who invested considerable time, over many years, to help find a long-term plan for the Health Center and the region.
"We are especially grateful to Gov. Rell, Sen. Dodd and our state legislative leaders for championing this innovative plan," Laurencin said. He also thanked members of the University's Board of Trustees, the Health Center's Board of Directors, Jean Morningstar and University Health Professionals, as well as leaders from all of the regional hospitals.
In a message to employees Tuesday night, UConn President Michael J. Hogan thanked "all of you at the Health Center as well as our Storrs and regional campuses. It's taken a great deal of time and effort to come to this point and your support has been critical to getting us here."
Rell called the vote a critical leap forward not just for John Dempsey but for "a health network with incredible reach throughout Connecticut and thousands of new jobs that will be associated with the network and the hospital."
It's projected the bill would create 6,800 new jobs by 2030 and 7,400 new jobs by 2040 by establishing the bio-science enterprise zones around the area hospitals to attract researchers and entrepreneurs.
Rell also said, "We are taking steps to put UConn's schools of medicine and dentistry into the top tier of academics and research. We are moving to increase classroom and lab space for those students and offset the shortages we expect in those essential professions. And we are setting the stage for enormous improvements in the health care we provide and tremendous growth in the number of people that industry employs."
The legislation provides $207 million in additional UCONN 2000 funds for the construction of the bed tower and renovations of current hospital facilities, as well as $30 million to support a variety of collaborative initiatives throughout the region. The initiatives include a shared Simulation Center at Hartford Hospital, an Institute for Primary Care at St. Francis Hospital, a Health Disparities Institute, support to seek national designation as a Comprehensive Cancer Network, an Institute for Nursing Excellence, and support for the Connecticut Institute for Clinical and Translational Science. The management of 40 neonatal intensive care unit beds would be transferred to the Connecticut Children's Medical Center but the beds will remain at the Health Center. The plan also includes applying for $100 million in funding from federal or other sources which university leaders say they have prepared for and already are working on a submission.