Feature Story
Health Center Today, May 13, 2010
Charles K. Brown Jr. Is Passionate About the Publicís Health
By Chris DeFrancesco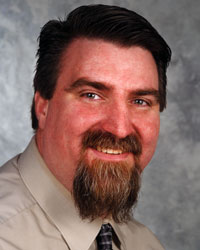 Charles K. Brown Jr.
Charles K. Brown Jr. is poised to be a leader in public health. But despite his passion, itís a field that almost went on without him.
Eight years ago, Brown and his wife had just moved from Florida to Connecticut, when the health director in Manchester told him he was the first choice for a food inspector job. "She calls me back an hour later and says, ĎWe canít hire youÖ You only have an associateís degree,í" Brown says. "In the time they had been looking at the position, the state actually changed the requirements for food inspectors to include a bachelorís degree. So I didnít have the qualifications at that point."
Brown, then 30, had put college on hold to serve eight years in the Air Force, during which he served in the first Gulf War. "The health director said, ĎWe canít do anything for you, but thereís an organization thatís just starting up; itís a professional association for the local health directors, and theyíre going to be looking for people with some background in bioterrorism and emergency preparedness,í" Brown says.
He was hired by the Connecticut Association of Directors of Health as an education resource assistant. "If that wouldnít have happened, I would have probably been in business or some other field," Brown says. "Itís just the way the doors open at times that are opportune."
Brown went back to school while working at CADH, and in 2006 he graduated from Central Connecticut State University with a communications degree. UConn was his choice for his MPH because of its applied practice program. "They really were the ones who were looking at public health as it is practiced in the field, and if you look at the current Connecticut public health leaders, quite a few of them have their MPHs from UConn," Brown says. "I think the time Iíve spent here has prepared me well to be that kind of leader."
After nearly seven years of full-time commitments as both an employee and student, he says, "Iím going to try to get to know my kids a little more."
Brown, now the program director for emergency preparedness at CADH, says itís time public health gains the recognition it deserves. Itís the message he wants to deliver to his classmates, invoking the legacy of a British physician whose effort to trace the source of a mid-19th-century cholera outbreak has been regarded as a founding event in the science of epidemiology.
"When you look back in history, you had John Snow, who ripped the pump handle off the water pump in London to stop a cholera outbreak," Brown says. "Thatís the type of thing that we need. And thatís the type of thing that we can carry now. We have more tools now to communicate about our value and to spread that message out to the community than anybodyís ever had before. Itís just that we have to take the opportunity as a profession to use them, and to make people understand what it is we do."