Feature Story
Health Center Today, May 3, 2010
A Scholarship Student Becomes a Scholar, Then a Scholarship Donor
From the May 2010 issue of Our Moment, the UConn Foundation's e-newsletter.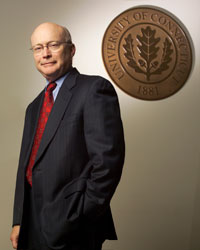 A portrait of Jack Rowe, former chair of the Board of Trustees.
Photo by Paul Horton
Dr. Jack Rowe has had many titles in his life: professor at Harvard and Columbia, CEO and chairman of Aetna, CEO of Mount Sinai Medical Center and School of Medicine in New York City, chair of the board of the University of Connecticut, and one last title that actually came first: scholarship student.
"I only had the benefit of higher education because I had full academic scholarships to college," he says. "My family otherwise would not have been able to send me to school."
College, then, made just about everything else in his life possible. From Canisius College in Buffalo, N.Y. to the University of Rochester School of Medicine and Dentistry, to Harvard Medical School and onward to numerous other high-profile positions, Dr. Rowe has had a lifelong involvement with education.
He and his wife, Dr. Valerie Rowe, a former professor at Fordham University, took their commitment one step further recently with a $2 million pledge through the UConn Foundation to the UConn Honors Program. The gift will provide much-needed support to the existing John and Valerie Rowe Health Professions Scholars Program, which encourages academically gifted students from underrepresented groups and low-income families to enter the health professions. The program is administered by the universityís honors program in partnership with the UConn Health Center. UConn applicants who are Connecticut residents pursuing a health professions-related major are eligible for consideration.
"For me and my wife, our particular interest was in trying to give disadvantaged students who are academically talented the opportunity to reach their full potential," he says. "The health professions are desperately in need of more talented minority physicians and nurses and dentists and lab technicians and thatís been a consistent observation throughout my career. Thatís why we did this."
"Rowe Scholars have been admitted to medical, dental and nursing schools, worked on honors theses and served as campus leaders," says Lynne Goodstein, director of the Honors Program. "The Rowesí gift is a statement of their confidence in the Honors Program to provide life-changing opportunities to deserving students."
Dr. Rowe has a history of providing students with the same opportunities he was given.
"Jack Rowe understands deeply the mission of this public research university and what it takes to make it a great one," says UConn President Michael J. Hogan, whom Dr. Rowe was instrumental in bringing to UConn. "A scholarship he received as an undergraduate opened opportunities and understanding for him that defined his career, in the same way that the Health Professions Scholars program that he and Valerie now establish will enable leaders of generations to come. Personally Iím very grateful to Jack for his care for UConn and his continuing generosity. He and Valerie demonstrate the essential merit of paying forward, to sustain the leadership that our communities will most surely need."
Now on a one-year sabbatical from Columbia and working on a project related to aging at the Center for Advanced Study in the Behavioral Sciences at Stanford University, Dr. Rowe continues his lifelong commitment to learning, and the public continues to reap the benefits of his research.
And it all began with a scholarship.
"Iíve had the opportunity to be trained in the finest institutions in the world," he says. "I cannot imagine my life without the benefits of higher education; it truly is unimaginable to me."
For more information about supporting the Honors Program, please contact the UConn Foundationís development department.