Feature Story
Health Center Today, May 4, 2010
Zachary Goldman Combines Artistry with Dentistry
By Carolyn Pennington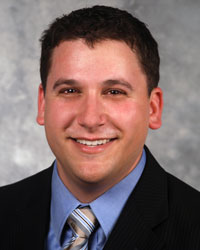 Zachary Goldman
Two main factors influenced Zachary Goldman's decision to become a dentist – his father and his violin.
Goldman grew up watching his dad practice general dentistry in Saugus, Mass. His dad's love and enthusiasm for his profession inspired Goldman to pursue a career in dentistry. After four years of dental school, Goldman is happy to say he shares his passion for dentistry.
A graduate of Maine's Colby College, Goldman loves using his hands in a creative way. He's been playing the violin since he was eight years old. His passion for playing is one of the reasons he decided on becoming a dentist.
"There is a lot of artistry involved with being a dentist," explains Goldman. "I really enjoy working with the materials. We often start out with a tooth that looks pretty bad and it's our responsibility to try and make it look as natural as possible while still maintaining its function in the mouth. It's rewarding when my patient can't tell which tooth I worked on – as we learned in school, 'the best dentistry looks like no dentistry has been done at all.'"
Goldman decided on general dentistry because he has seen how his father has built lasting relationships with his patients and their families. General practice allows these relationships to flourish which is an aspect of the profession that Goldman considers a perk.
The variety is also nice. General dentists offer the first line of treatment and can offer comprehensive care in all disciplines but always have the option of referring to a specialist if they feel the patient can be better treated there. Goldman says one of the most rewarding areas to him is restorative dentistry ---"making something out of – not much."
Never was that feeling of satisfaction more acutely felt than when Goldman participated in a service trip to Belize at the end of his second year in dental school. "It really is the first time we were given the opportunity to problem solve on our own," explains Goldman. "Additionally, the high volume of patients allowed us to hone our technical skills while doing a greater good for the community there."
"It really expands your comfort zone. For instance, my first extraction in Belize was terrifying because the patients don't sit in a standard dental chair. They're on a school bench and it's 90 degrees and humid. There's no suction, no assistant, they're just holding a plastic bag and spitting into it. It's eye-opening and it makes you realize what we have here and what we take for granted."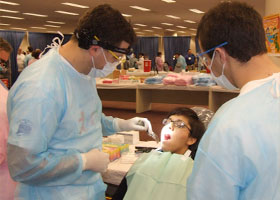 Zachary Goldman (left) treating a patient during the Mission of Mercy free dental clinic in Middletown.
Another eye-opener is Mission of Mercy which has provided free dental care for thousands of people in the region over the past three years. The dental school's faculty and students are an integral part of the event.
"The people are so appreciative, some have not received dental care in years," says Goldman. "And as students, we're learning a lot because we're working alongside dentists and oral surgeons who are extremely experienced and are eager to pass along their knowledge and specific techniques."
Goldman's father will soon be the one eagerly passing along his knowledge and expertise. After a one-year general practice residency at St. Francis Hospital and Medical Center, Goldman will be joining his father's private practice in Massachusetts. He will also continue to play his violin.