Feature Story
Health Center Today, May 12, 2010
Hogan Resigns; Accepts Position at University of Illinois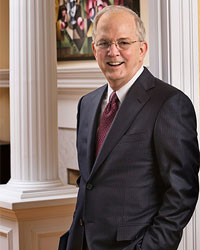 President Michael Hogan.
Photo by Paul Horton
By Michael Kirk
University of Connecticut President Michael J. Hogan has announced that he has accepted an appointment as president of the University of Illinois and will resign from UConn effective June 30. Hogan has led UConn since 2007 and will begin at Illinois in July.
"UConn is a wonderful university. I've made many lifetime friends here, enjoyed working with a top-notch administrative team, and celebrated the many accomplishments of our faculty, students and staff," said Hogan. "It's with a degree of sadness that I'm leaving, but I can do so knowing that we've accomplished many of the goals that the Board of Trustees set out for me when I began my term as UConn's president three years ago."
Since Hogan began his term, UConn has substantially increased the recruitment of outstanding students, seen a rapid growth in federal research grants, restored the integrity of the UConn 2000/21st Century UConn program, completed and advanced the University's strategic academic plan, and saw successful legislative action to firmly establish the fiscal solvency and future of the UConn Health Center.
"We're grateful for the strong leadership Mike Hogan brought to UConn over the last three years," said UConn Board of Trustees Chairman Lawrence D. McHugh. "We've had many successes during this time, including establishing a bright future for our Health Center, launching a major capital campaign, increasing our research portfolio by over 25 percent, and admitting stronger and more diverse students each year. We all wish Mike the best as he transitions to the University of Illinois and will soon name an interim president and immediately begin planning our search for UConn's 15th president."
University of Illinois interim President Ikenberry said he is ecstatic about Hogan's appointment: "Those of us at Illinois have followed and admired Mike Hogan's academic career for some time. I admire all he has been able to accomplish and look forward to his arrival in Illinois. Mike and Virginia will be welcomed with open arms."
University of Illinois Board of Trustees Chair Christopher G. Kennedy added: "President Hogan is an extraordinary leader in American higher education. The University of Illinois is thrilled with the prospect that he and his wife Virginia will return to their roots in the Midwest. We look forward to his seasoned leadership talent and extensive experience to strengthen the excellence of our university."