Feature Story
Health Center Today, May 25, 2010
Bank of America Employees Deliver Baskets to NICU
By Chris DeFrancesco
The Health Centerís Neonatal Intensive Care Unit accepted more than 100 gift baskets for parents of premature infants in its care.
Greater Hartford Bank of America employees organized an effort to collect, purchase or donate items such as preemie-sized clothing, diapers and other newborn supplies, then packaged them into hand-crafted gift baskets for the March of Dimes NICU Family Support Program. A team of bank employees delivered the baskets to the Health Center May 24 in what has become an annual event that includes a reception in the Onyiuke Dining Room and a tour of the NICU.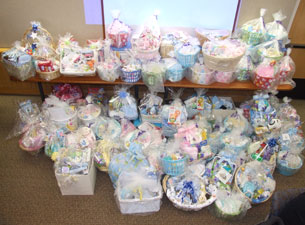 Bank of America employees delivered more than 100 gift baskets to the Health Center May 24.
Photos by Chris DeFrancesco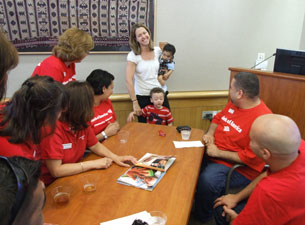 A parent thanks a group of Bank of America employees for their support of NICU families.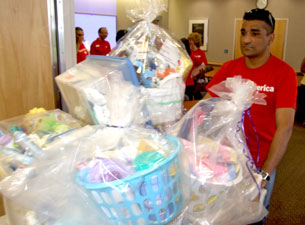 A cart loaded with gift baskets is on its way to the NICU.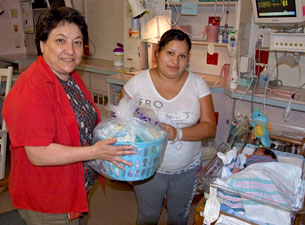 A Bank of America employee presents a gift basket to a NICU mother (right) while her 8-day-old son rests.