Feature Story
Health Center Today, May 11, 2010
Nurse's Week Celebration a Success
Journey to Magnet Status Topic of Danforth-O'Neil Lecture
By Carolyn Pennington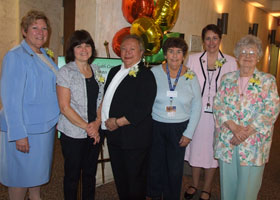 E.Carol Polifroni (far left), keynote speaker for the Danforth-O'Neil lecture, poses with current and former Health Center nursing leaders (left to right) – Gloria Opirhory, Irene Engel, Jeanne Lattanzio, Ellen Leone, and Claire O'Neil.
When E. Carol Polifroni began the Danforth-O'Neil lecture, the first image that popped up on her PowerPoint presentation was a photo from the movie "The Wizard of Oz." It seemed a strange way for the UConn School of Nursing associate professor to begin her talk about Magnet status recognition. Polifroni quickly made it clear that the magnet journey toward excellence that the Health Center is about to embark on will be even more challenging than what Dorothy and the gang faced as they "followed the yellow brick road."
Polifroni has been at the School of Nursing for 33 years and a Magnet appraiser since 1994. She says trying to attain the American Nurses Credentialing Center Magnet Recognition award requires a team effort. The process is thorough and lengthy and demands widespread participation but "it's a journey toward excellence and will lead to something good at the end."
Just as the cowardly lion was seeking courage, Polifroni says "you have to have courage to take that first step on the journey especially because the path hasn't been laid yet." The journey itself is worthwhile and can be a revealing self-assessment. It often creates opportunities for organizational advancement, team building, and enhancement of individual professional self-esteem, adds Polifroni.
Research has found that Magnet facilities are more likely to attract and retain nurses. Polifroni says nurses are also more actively involved in those institutions. Ideas from staff nurses are shared with leaders and leaders listen and use the information to make changes.
Magnet facilities have more nurses who have earned higher degrees, more nurses who have joined professional organizations, and more nurses who are involved with their community.
The Magnet Recognition Program is based on quality indicators and standards of nursing practice. It is a data-driven process that requires clear sources of evidence that the changes made led to measurably improved outcomes.
"Just being good is not enough, you have to consistently strive for excellence," emphasizes Polifroni. "Even though it's a tough journey, the reward at the end is that Magnet status elevates the reputation and standards of the nursing profession and in turn, improves patient outcomes."
There are 5,500 health care institutions in this country and only 371 of them have earned Magnet recognition. There are two hospitals in Connecticut – Stamford and Middlesex.