Feature Story
Health Center Today, May 21, 2010
Board Names Austin as Interim President
By Michael Kirk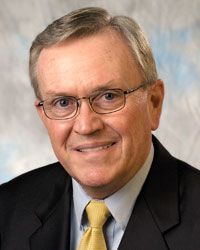 President Philip E. Austin.
Photo by Peter Morenus
The University of Connecticut Board of Trustees today voted to appoint Philip E. Austin as interim president of the University while it conducts a search for UConnís 15th president.
Austin previously served as president from 1996 to 2007, a period of unprecedented growth at UConn. His appointment will begin on June 11 and run until a new president is selected, a process that is expected to take several months.
"During this period of transition, it is essential that the University have an experienced leader to guide us forward, particularly as we face budgetary challenges and continue working to secure a renovated John Dempsey Hospital and new patient tower at the Health Center," board chair Larry McHugh wrote in an e-mail to the University this afternoon. "Phil Austin has a deep commitment to UConn, pride in what we have achieved, and the desire to do whatever he can to ensure our continued growth and success. Speaking on behalf of the entire board, we are thrilled and grateful that Phil has agreed to return on an interim basis to help ensure a smooth transition from one president to another. I very much look forward to working with him."
McHugh noted that the board is currently forming a broad-based committee that will conduct a nationwide search for a new president. "We will keep the UConn community updated on the search process as we move forward," he said.
Since stepping-down as president, Austin has been a faculty member at UConn teaching courses in higher education leadership, as well as participating in accreditation and other activities of the New England Association of Schools and Colleges and the National Collegiate Athletic Association on behalf of the University.
"Serving as the president of UConn was greatly rewarding and Iím happy to assist the University now as it undergoes a transition in leadership," said Austin. "I look forward to working closely again with the board, our faculty, staff, alumni, and students, as well as our state and federal elected officials. All have contributed significantly to UConnís impressive progress in recent years."
Austin said he will not be a candidate for the permanent position. His salary will be $370,000 a year.
Austin earned a Ph.D. from Michigan State University in 1969 and served in the U.S. Army from 1969 to 1971 as an economist. From 1971 to 1973, he was a senior economist for the Office of Management and Budget in Washington, D.C., and held positions within the Department of Health, Education, and Welfare from 1974 to 1977, including Acting Assistant Secretary for Education.
After directing a doctoral program in educational policy at George Washington University, Austin became provost and vice president for academic affairs at Baruch College in New York City, part of the CUNY system, from 1978 to 1984. From 1984 to 1989 he was president of Colorado State University, and from 1989 until 1996 he was chancellor of the University of Alabama system.
Austin began his tenure at UConn on October 1, 1996 and stepped down as president on September 14, 2007. He lives in West Hartford and is the father of two adult sons.