Feature Story
Health Center Today, November 29, 2010
Aetna Foundation Meets Beneficiaries of Gift
From the November 2010 issue of Our Moment, the UConn Foundation's e-newsletter.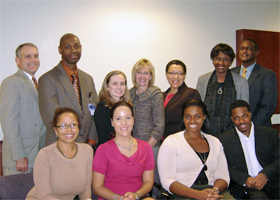 Front row from left: Aisha Castater, second-year medical student; Tiffany Brady, second-year dental student; Shawnet Jones '09, second-year medical student; and Shanado Williams '11, senior in the undergraduate program. Back row from left: Aetna Foundation Vice President Chris Montross; Assistant Dean and Associate Director of Health Careers Opportunity Programs Granville Wrensford; Aetna Foundation Program Consultant Melenie Magnotta; Aetna Foundation Vice President of Corporate Relations Sharon Dalton; Aetna Foundation President Anne Beal; Associate Dean and Director of HPPI Marja Hurley, M.D.; and Keith Carter, community based educational specialist and coordinator of HPPI Academy Program.
Photos by Jennifer Huber
This month marks the fifth anniversary since the Aetna Foundation made a $2 million donation to support the Aetna Health Professions Partnership Initiative (HPPI). Executives from the foundation recently visited the UConn Health Center to meet with some of the students whose lives have been transformed by the program and their faculty advisors.
"For nearly a decade, the Aetna Foundation has worked to eliminate the significant racial and ethnic disparities in health and health care that exist in America. Preparing young people from a wide variety of backgrounds to enter the health care field is an important step toward ensuring high-quality health care is available to everyone," says Anne C. Beal, M.D., M.P.H., president of the Aetna Foundation. "With 17 percent of its incoming medical students and 21 percent of its incoming dental students from underrepresented minorities, UConn has a stellar record in attracting a diverse student body to the world of medicine, health and science."
The HPPI is a comprehensive program designed to inform young students about careers in the health and sciences fields and support students' academic development. The initiative, which is run by the Health Center's Office of Health Careers Opportunity Programs (HCOP), includes a number of enrichment programs for underrepresented and disadvantaged students in Hartford-area middle and high schools. Students, many of whom are the first in their families to go to college, who attend UConn are supported throughout their academic careers with continued programming and mentorship.
"We are tremendously grateful to the Aetna Foundation for its generosity and leadership in addressing disparities in education and health care. Through the foundation's grant, we have been able to expand to offer more innovative programs and reach more students. The HPPI program has given incredible opportunities and made a difference in the lives of so many students," says Professor Marja Hurley, M.D., director of HCOP and associate dean at the School of Medicine.
Since HPPI was launched in 1996, more than 1,000 participating students have entered careers in health care. Moreover, 96 percent of high school seniors enrolled in HPPI during the 2009–10 academic year are attending college this year.
"I'm thrilled that our faculty and students were able to meet with leaders from the foundation to share their experiences and thank them for their support," says Hurley.
Shanado Williams '11, a senior and resident assistant (RA) in Storrs, is one of four UConn students who came to share his story. He talked about his experience in the Health Professions Academics and Mini Medical School Seminar Series at Weaver High School in Hartford.
"That was my first introduction into the sciences. Science was something completely unheard of where I'm from," Williams explained. "I can say that the Mini Medical program was what got me to focus on what I'm doing now to become a doctor."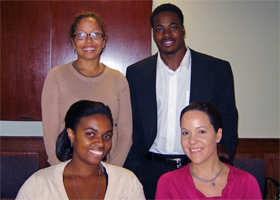 Back row: Aisha Castater, second-year medical student and Shanado Williams '11, senior in the undergraduate program. Seated left to right: Shawnet Jones '09, second-year medical student and Tiffany Brady, second-year dental student
As a student at UConn, he also has participated in the College Enrichment Program (CEP) and MCAT preparation program.
"I'm a testament to what these programs can do. When you have people out there caring about you, behind you, it makes a difference," says Williams. "People are always telling us that we're the future generation. Those are just words until you see that someone is making an investment in our future. The faculty in these programs are invested in my future."
Williams was joined by fellow students enrolled in UConn's School of Medicine, School of Dental Medicine and Graduate School. "The Aetna HPPI program has an enormous impact on Connecticut students, and has contributed significantly to the diversity of the students enrolled in the graduate and professional programs at the Health Center," says Assistant Dean and Associate Director of HCOP Granville Wrensford.
For more information about supporting the UConn Health Center, please contact the UConn Foundation's development department.