Feature Story
Health Center Today, November 12, 2010
Pharmacy Professor Is Awarded Prestigious V Foundation Grant for Cancer Research
By Megan Zabilansky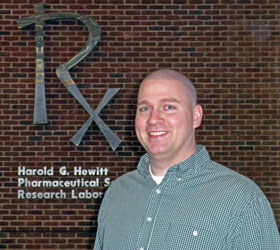 M. Kyle Hadden
M. Kyle Hadden, assistant professor of medicinal chemistry at the UConn School of Pharmacy and a researcher affiliated with the Carole and Ray Neag Comprehensive Cancer Center, has been awarded a prestigious V Scholar grant from the V Foundation for Cancer Research.
"This is the first big award for the lab and it is an honor for me to be one of those chosen," commented Hadden on his selection. "It puts me in good company with other young cancer investigators, and it is nice for the researchers in the lab to be recognized for all their hard work."
Since it awarded its first grant in 1994, The V Foundation has awarded just 400 V Scholar grants to the most exceptional physicians and scientists from around the country. This year, seventeen bright young investigators were honored with a two-year, $200,000 commitment. "It is our hope that these funding initiatives will bring us - step by step - closer to discovering the causes and developing the cures for the more than 100 diseases that are cancer," stated the V Foundation.
As a recipient, Hadden has demonstrated a dedication in his research to the fight against cancer, developing new and innovative techniques in his lab and making significant breakthroughs within his field. He was especially recognized for his work on a chemical biology approach to understanding the anti-cancer effects of vitamin D3.
Since January of 2009, his medicinal chemistry lab in the School of Pharmacy has focused on vitamin D, how it operates, and both its preventative and therapeutic effects on cancer treatment. The laboratory synthesized compounds and inserted them into either breast or colon cancer cells to observe the specific ways in which they worked to prevent the cancer from growing.
"We are trying to see if we can make new compounds to target different receptor systems that would not have the negative effects of the vitamin D receptor system," explained Hadden. "As an undergraduate, my interest in synthesis and biochemistry directed me to the field of pharmacy and how creating new compounds can lead to helping a lot of people."
In 2000, he received his Bachelor of Science degree in chemistry from Wofford College and went on to earn his Ph.D. in medicinal chemistry at the Medical University of South Carolina in 2004. In 2005, he was honored with the position of postdoctoral fellow at the University of Kansas developing other anti-cancer compounds.
With this new grant, he hopes to hire a postdoctoral fellow to assist with research in the lab. The award will also enable him to pursue other projects, particularly those related to his interest in how signaling pathways in embryonic development are affected by some cancers.
"Ten years from now, I can still see my lab focusing in the area of cancer therapeutics, and I hope to continue my research at UConn doing synthesis and compound testing."