Feature Story
Health Center Today, November 30, 2010
Photographs, Sculptures, and Paintings on Display in Health Center Lobby and LeWitt Gallery
By Carolyn Pennington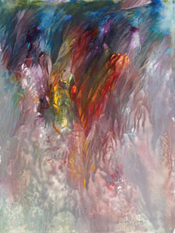 Artwork by Richard Malinsky.
Exhibits: Abstract Expressionist Paintings by Richard Malinsky and From the Artistís Point of View by Diane Marinaro
Where: Celeste LeWitt Gallery
When: Now through February 2, 2011, daily 8 a.m. to 9 p.m.
About the artists:
Richard Malinsky of Madison says he is influenced by the emotional gesture and physicality of abstract expressionism. Though nonfigurative, his images are derived from organic growth forms and remembered or imagined landscapes Ė allusions to water, earth, and sky. The imagery engages viewers emotionally, enticing them to focus on the feeling or essence of the representation rather than the literal one.
Painting mostly in oils, Diane Marinaroís subjects of interiors, landscapes and still lifes are vibrant with color and her use of light leads you to a new way of looking at her subjects. Marinaro lives in Avon and has exhibited her paintings in juried shows throughout Connecticut, Massachusetts and New York.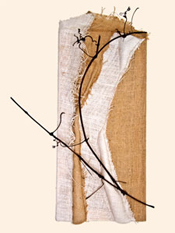 Artwork by Mary Lund.
Exhibit: Terra Tone: Photographs & Field Sculptures by Glenn Affleck and Mary Lund
Where: Main and Mezzanine lobbies
When: Now through January 6, 2011 daily 8 a.m. to 9 p.m.
About the artists:
The exhibit by Glenn Affleck of Avon and Mary Lund of Harwinton is inspired by extensive travels in Italy, France, and Ireland. Tinted monochrome photographs of land, sea, village, and city scapes are displayed in handmade barn wood frames that complement each printís shadings. Abstract sculptures stitched on burlap fields feature grape vines and sea forms. These prints and sculptures are united thematically through images and impressions of Europe, and their terra tone brings a spiritual and aesthetic harmony to the exhibit.
The University of Connecticut Health Centerís collection of fine arts serves to enhance the environment and promote the sense of a caring community for patients, visitors, staff and students. Art is selected, acquired and exhibited by the UCHC Art Advisory Committee. To view a selection of the Health Centerís permanent collection visit: http://auxiliary.uchc.edu/art.