RSS
Watch the Video
The UConn Foundation recently interviewed Hegde about the importance of this gift and how it will benefit his work.
Feature Story
Health Center Today, November 4, 2010
Gift Will Support Work of Clinician-Scientist Dr. Upendra Hegde
By Jennifer Huber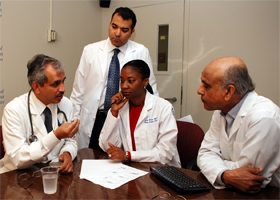 Drs. Upendra Hegde, Soheil Sam Dadras, Lori Wilson and Bijay Mukherji (left to right).
Photo by Janine Gelineau
Richard and Jane Lublin, a couple driven to helping find a cure for cancer and inspired by the power of private giving, have pledged a bequest estimated at $1 million for the Carole and Ray Neag Comprehensive Cancer Center at the UConn Health Center.
The gift will support the work of leading clinician-scientists including Dr. Upendra Hegde. Hegde is assistant professor of medicine, associate director of medical oncology in the melanoma program, and co-director of the head and neck/oral oncology program.
"Dr. Hegde is nationally renowned, and he's right here in Connecticut," says Mr. Lublin. "You're not going to solve this tomorrow, but Dr. Hegde is on the front line."
Mrs. Lublin is owner and president of Tree House Designs, an interior decorating company. Mr. Lublin was an attorney in the Hartford area for 30 years. After retiring 12 years ago, he became a television and film actor. He recently joined the advisory board at the Neag Comprehensive Cancer Center, and is focused on helping researchers make advances. He believes philanthropy, along with federal funding, is the key.
"Twenty-five years ago, a diagnosis of HIV or AIDS was fatal, but an enormous amount of money was spent on research, and now there are treatments that help people go on to live normal lives. President Nixon declared war on cancer, but there has not been a tremendous amount of success yet, and the war needs all the funding it can get," says Mr. Lublin.
Treating cancer is especially challenging because it takes so many forms and requires customized treatments for every patient. Lublin hopes his gift will spur cutting-edge therapies that make managing the disease easier.
"Statistics show that one out of three people will hear the word 'cancer' come out of their doctor's mouth sometime in their life. Whether it's your wife, your husband, your child, your parent, when you hear that word, your life is never going to be the same," Mr. Lublin explains. "My wife, Jane, and I are both cancer survivors, and we are extremely interested in speeding up the research for more effective and faster ways of relieving patients of the terrible suffering they endure with this horrific disease."
"We are thrilled to receive this gift of support from the Lublins," says Hegde. "Philanthropy is essential to continuing the work we are doing in basic science research and translational medicine. We are grateful for their commitment to the UConn Health Center."