Feature Story
Health Center Today, November 1, 2010
People Are Talking
By Carolyn Pennington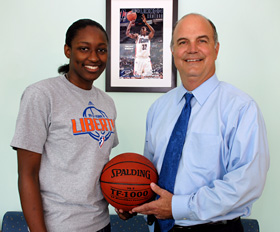 Kalana Greene and Dr. Robert Arciero.
Photo by Janine Gelineau
A college basketball star who went on to play professionally; a piano player who can make beautiful music again; a cardiology patient who is back on his bike: these are just a few of the compelling stories Health Center patients are sharing with the public through video messages that are now archived on the website.
Over the last year, more than a dozen patient stories have been added to the collection. Since then, there have been nearly 16,000 visits to the stories – with hundreds of people hearing first-hand accounts about Health Center services.
The newest video features Kalana Greene, a former UConn women's basketball star who suffered a devastating ACL injury during her college career but went on to celebrate a national championship and purse a professional basketball career, thanks to a successful ACL repair by Dr. Robert Arciero.
"I could have gone anywhere in America and chosen any doctor … but I read his rap sheet, knew some of his patients and knew I wanted Dr. Robert Arciero to do my surgery," Greene says in the video.
The videos have been produced jointly by the Office of Communications and Video Communications. If you have an idea for a video project, contact Carolyn Pennington at cpennington@uchc.edu.
View the complete story: http://www.youtube.com/uconnhealth#p/c/7E4090EAB78E131E/1/_IF_becMwGc.