Feature Story
Health Center Today, November 5, 2010
Dr. Marja Hurley Assumes New Role: Interim Senior Associate Dean for Education
By Maureen McGuire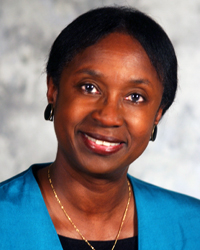 Dr. Marja M. Hurley
Like many leaders in academic medicine, Dr. Marja M. Hurley has mastered the art of multitasking. She is an internationally recognized researcher, a professor of medicine, an accomplished endocrinologist, and has been associate dean and director of the Health Career Opportunity Programs for more than two decades. Most recently, she assumed an additional role as interim senior associate dean for education, taking over the longstanding duties of Dr. Bruce Koeppen.
Given her background in academics and administration, it is a task she is ready to handle.
"A sound foundation has been built for our medical school. We have a dynamic and challenging curriculum, bright and engaged students and a talented and dedicated faculty. There is every reason to be optimistic about our future," Hurley said recently.
Hurley brings to her new responsibilities a proven track record and a strong history at the Health Center. She is a graduate of UConn and the UConn School of Medicine and has been an integral part of the faculty since completing her fellowship in endocrinology in 1986.
During her career at UConn, Hurley served as a faculty fellow for one year to the Liaison Committee on Medical Education (LCME) of the Association of American Medical Colleges (AAMC), and was involved in the evaluation and re-accreditation of a U.S. medical school. She is still actively involved with the AAMC and is the Health Center's liaison with its Group on Women in Medicine.
As a professor of medicine, Hurley lectures first and second year students, works closely with residents and supervises graduate students and postdoctoral fellows. She was the 2001 recipient of the prestigious Camel Award for Excellence in Teaching.
As the associate dean and director of the Health Career Opportunity Programs, Hurley has successfully fostered innovative educational programs that have reached out to talented students from middle school, high school, college and graduate levels and encouraged students to pursue careers in medicine, dentistry and allied health.
Her work has been recognized by the New England Board of Higher Education, the Association of American Medical Colleges, and her alma mater, the University of Connecticut, which honored her with the Martin Luther King Award for Achievement in Science. She also continues to secure widespread extramural funding support for the health careers program, including ongoing support from the Aetna Foundation.
As laudable as these achievements are, Hurley is also a widely published endocrinology researcher whose work has been supported by the National Institutes of Health (NIH) since 1989. She is known nationally and internationally for her research in the field of molecular biology of growth factors and their role in normal and pathological disorders of bone and has published extensively in this area in peer reviewed journals. She has been an invited speaker at many national and international research meetings, including Gordon Conferences, the European Calcified Tissue Society, International Bone and Mineral Society, and the Endocrine Society.
Among Hurley's many awards and accolades, she was recently the recipient of the 2010 winner of the Connecticut Technology Council's Women of Academic Innovation and Leadership Award and the 2009 West Indian Foundation Community Service Award. On a national level, she is actively involved with the National Medical Association and is also a member of the American Society for Bone and Mineral Research, the Endocrine Society, the American Society for Cell Biology, the International Bone and Mineral Society and the New York Academy of Sciences.
"Along with achieving national acclaim for her endeavors, Dr. Hurley has clearly helped to advance the academic, research and outreach goals here at the Health Center. She is the right person, at the right time, to serve as interim senior associate dean for education," added Dr. Cato T. Laurencin, vice president for health affairs and dean of the UConn School of Medicine.