Feature Story
Health Center Today, November 24, 2010
New England Musculoskeletal Institute Staff Provide Free Foot Exams, Shoes, Socks for Homeless
By Chris DeFrancesco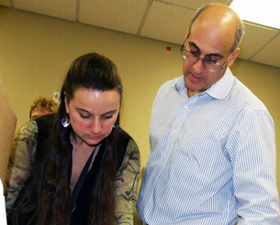 Dr. Michael Aronow (right) and clinical office assistant Carmen Propiescus take inventory of footwear.
Photos by Chris DeFrancesco
Dozens of homeless people in central Connecticut are among the thousands in the U.S. to receive a new pair of shoes and access to free foot exams in time for Thanksgiving.
Itís part of an annual nationwide Thanksgiving week effort to provide proper footwear and medical foot screening examinations at homeless shelters. Now known as the Conti Project, itís a collaboration between the Pennsylvania nonprofit Our Hearts to Your Soles and the Tennessee nonprofits Soles4Souls and Socks2Soles.
Again this year, a team from the New England Musculoskeletal Institute led by Dr. Michael Aronow, foot and ankle surgeon, staffed events at the Friendship Service Center and the Salvation Army, both in New Britain. They fitted 40 people with shoes and socks, provided foot and ankle exams to five patients, and left the shelters with 70 additional pairs of shoes and boots for future use.
Also participating were Dr. Vinayak Sathe, medical assistants Lori Engengro, Drena Pinheiro and Doreen Smith, cast technician Kathy York, and clinical office assistant Carmen Propiescus.
"The UConn staff were wonderful to our clients," says Donna Bergin of the Friendship Service Center.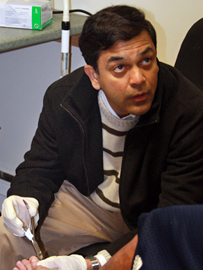 Dr. Vinayak Sathe provides a free medical foot screening at the Friendship Service Center of New Britain.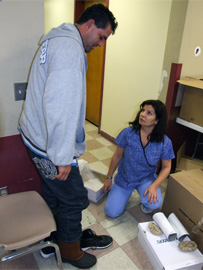 Medical assistant Drena Pinheiro makes sure a pair of boots fits correctly.