Feature Story
Health Center Today, November 16, 2010
Itís Not Just Black and White: The Kaleidoscope of Pain Management
By Carolyn Pennington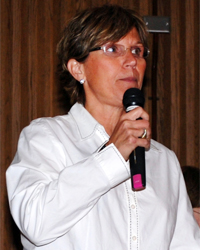 Nancy Baccaro, one of the organizers of the pain conference.
Photos by Janine Gelineau
Pain is one of the body's most important communication tools. Itís one way the body tells you something's wrong and needs attention. But it can be a challenge for patients to accurately communicate their pain to health care providers. And since people respond to pain in multiple and individual ways, it can be equally challenging for providers to effectively manage a patientís pain.
The Health Center recently held an all-day conference addressing the many facets of pain management. "Itís Not Just Black and White: The Kaleidoscope of Pain Management" featured a variety of speakers who described the multidimensional aspects of acute and chronic pain, including depression and addiction; identified pharmacologic and non-pharmacologic management strategies (integrative therapy and spiritual care); and discussed the unique aspects of sickle cell pain. The program was targeted for nurses but any health professional working with individuals having pain was encouraged to attend.
"Pain management is really a difficult art," says Nancy Baccaro, an advanced practice registered nurse in the Neag Comprehensive Cancer Center. "Due to many barriers and myths regarding pain management, it really makes health care providers wary to prescribe pain medications. Not every patient prescribed a pain pill is going to become addicted and most patients we treat with pain medications do not have an addiction history."
Some of the difficulties of pain management also involve how the patients describe their pain. "I think itís hard for some people to quantify their pain on a scale of one to 10," says Jessie Riemer, clinical nurse specialist. "Thatís why we need to look at a variety of measurements, the total picture. For instance, how functional is the patient?"
Reimer says instead of just asking patients how they rate their pain, health providers could also ask them questions about the quality of their day. Can they go to the grocery store, can they prepare dinner, and are they able to sleep?
"We have a responsibility to our patients and the nursing profession to be as knowledgeable as we can and not be biased by the patientís perception of pain," adds Cheryl Tafas, registered nurse and education development specialist.
"Studies have shown that health care providers may not have an in-depth knowledge of pain management techniques. Some may not believe the patientís complaint of pain particularly when the cause is unknown," explains Tafas.
Conference organizers Baccaro, Reimer, and Tapas hope the program helped educate and empower nurses to act more decisively when it comes to providing effective pain relief to patients. They hope to make the conference an annual event.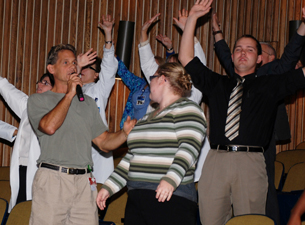 Integrative therapist Edward Dailey leading a session during the pain management program.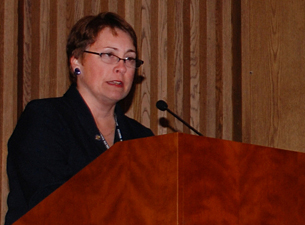 Ellen Leone, chief nursing officer, welcomes participants to the pain management program.