RSS
WTIC 1080 News Report Featuring Dr. Patrick Campbell

Effective November 18, the UConn Health Center is an entirely smoke-free campus. Learn more at http://cleanair.uchc.edu.

A poster for the Health Center's smoke-free celebration November 18 is one of many promotional materials generated by the Clean Air Committee over the last year.
Watch the Videos
Watch the videos of the November 1 lunch-and-learn workshop "Options."
Videos are in WMV format.
Feature Story
Health Center Today, November 18, 2010
Health Center Stamps Out Smoking
By Chris DeFrancesco
The UConn Health Center is now a 100 percent smoke-free campus.
Enactment of the new policy was timed to coincide with the American Cancer Society's 2010 Great American Smokeout.
State law already prohibits smoking in any state building and within 50 feet of an entrance to a state building. Smoking was outlawed inside John Dempsey Hospital in 1990. The new policy bans tobacco use anywhere on the Health Center campus.
"It is our duty to promote healthy living and provide a healthy environment by eliminating tobacco smoke everywhere on our grounds," says Dr. Cato T. Laurencin, vice president for health affairs and medical school dean.
The Health Center first committed to becoming smoke-free a year ago and began a carefully planned endeavor to engage and inform not only staff, patients and visitors, but also faculty, students, contractors, vendors, and the community.
That campaign intensified over the last month, when daily "Countdown to a Smoke-free Campus" calendars in the main and academic lobbies joined the signage that already had been in place throughout the campus for several weeks prior, some longer.
Other efforts include:
Informational booths throughout the campus, as well as at the Cell and Genome Sciences Building and the clinical offices in West Hartford and East Hartford, on the first smoke-free day, offering copies of the actual policy, details on available smoking cessation studies, interaction with employees who've successfully quit smoking, and a chance to win cold turkey—in this case, one of 80 frozen Thanksgiving turkeys to be awarded.
A free presentation by the St. Vincent's SmokeStoppers November 10, with ex-smokers Maryellen Bolcer and Susan Richards talking about the dangers of tobacco and the real story behind why a person smokes.
A lunch-and-learn workshop November 1 offering information about smoking-cessation resources available at the Health Center and in the community.
More information about the Health Center's smoke-free movement is available at http://cleanair.uchc.edu.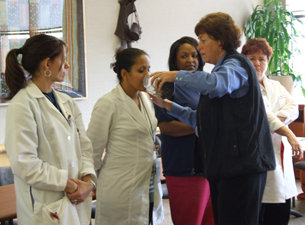 Maryellen Bolcer of the St. Vincent Smokestoppers uses a jar of cigarette butts to demonstrate how people react differently to the smell of cigarettes. Lined up from left to right are Health Center employees Sherry Tilsch, Malissa Trainor, Connie Simons and Chris Burns. The Smokestoppers gave a free presentation at the Health Center November 10.
Photo by Alexandra Crean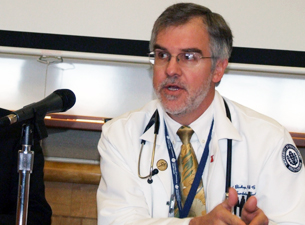 Physician assistant Bradley Biskup explains the Calhoun Cardiology Center's Lifestyle Modification Clinic during a panel discussion about smoking cessation resources November 1.
Photo by Chris DeFrancesco
Smoking Cessation Studies at the UConn Health Center
| | | |
| --- | --- | --- |
| Study Focus | Who's Eligible | Contact Information |
| Effects of smoking on blood pressure/contingency management | Smokers with normal or high blood pressure | 860-372-8418 |
| Impact of exercise or relaxation on smoking cessation | Postmenopausal women | 860-679-3136 |
| Quitting while pregnant | Pregnant women | 860-545-4536 |