Feature Story
Health Center Today, October 18, 2010
Neag Comprehensive Cancer Center Strides Against Breast Cancer
By Chris Kaminski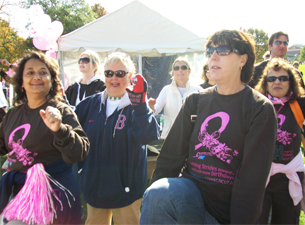 The Neag Comprehensive Cancer Center team participating in the Making Strides Against Breast Cancer walk.
Photos by Lynn Brown
Set in Hartfordís Bushnell Park, the Neag Comprehensive Cancer Center team participated in the American Cancer Society Making Strides Against Breast Cancer walk on Sunday. The inspiring event honors breast cancer survivors, raises awareness about the disease, and raises life-saving donations. Since 1993, nearly six million walkers have raised more than $400 million. In 2009 alone, nearly 700,000 walkers across the country collected $60 million to save lives from breast cancer.
"This is the second year that I have served as captain of the Cancer Center team. This year it was easier to get individuals to join the team. People were much more motivated and willing to participate," says Lynn Brown. The Cancer Center team was represented by approximately 50 individuals consisting of faculty, staff, patients and family members. The team was recognized as one of the top fundraisers for Making Strides Again Breast Cancer by raising over $5,000. "Everyone on the team and those who supported us with their donations has a personal connection to the disease," added Brown.
The Neag Comprehensive Cancer Centerís Patient Navigator Program is supported by the American Cancer Society. The Navigator Program provides personalized, confidential assistance to patients throughout the different phases of their cancer care.