Feature Story
Health Center Today, October 13, 2010
Dental Students Run in Marathon to Raise Money for Needy Kids
By Carolyn Pennington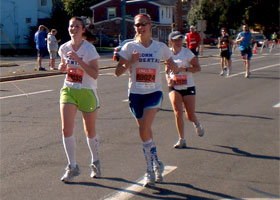 Dental Students Kerrie O'Brien (left) and Brittany Sonnichsen run in the ING Hartford Marathon.
Photo courtesy Rob Sonnichsen
Around 20 University of Connecticut dental students ran in the ING Hartford Marathon October 9 to raise money for Sponsor a Smile. The community service project is organized by the American Student Dental Association and aims to biannually provide a new toothbrush and toothpaste to the students of Milner Elementary School in the North End of Hartford.
The students raised over $1,000 and continue to welcome donations. The cost to sponsor a child is $10 and can be made by visiting www.sponsorsmile.blogspot.com.