Feature Story
Health Center Today, October 4, 2010
Understanding Health Disparities in Adolescent Girls
By Beth Krane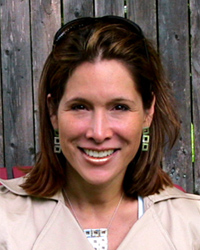 Stephanie Milan
Associate professor of psychology Stephanie Milan has a new grant from the National Institute on Child Health and Development to study the cultural context of health disparities in adolescent girls in New Britain. The grant, in the amount of $427,000, is for a two-year period.
The research will focus on two health issues – reproductive health and being overweight or obese – where disparities are already well-documented by adolescence, with African American and Latina girls at greatest risk.
Pregnancy rates, for instance, are about two to three times as high, and obesity rates are about one and a half times among African American and Latina girls as compared with their white, non-Hispanic peers.
"These two health outcomes are not typically studied together, but behaviors impacting them are both heavily influenced by cultural factors," says Milan, a Principal Investigator with UConn's Center for Health, Intervention, and Prevention (CHIP) and the grant's principal investigator. "Many areas where health disparities exist, such as cancer and HIV, are universally perceived as undesirable outcomes; in contrast, perceptions of early childbearing and weight are individually and culturally defined."
To date, there has been very little research into cultural influences on adolescent health, Milan says, adding that concepts important to understanding families of color may not emerge in studies of non-Hispanic whites.
The study, funded under the NIH's Exploratory/Developmental Grant (R21) mechanism, aims to identify ways in which parents' culturally rooted ideas about gender are infused into family life and may indirectly influence the risk of sexually transmitted diseases (STDs), unintended pregnancy, and overweight/obesity in adolescent girls. The R21 grants program is intended to encourage exploratory and developmental research projects by providing support for the early and conceptual stages of these projects.
Milan brings her expertise in adolescent reproductive health to the project, and co-investigator Amy Gorin, an assistant professor of psychology and a CHIP Principal Investigator, brings her expertise in understanding the social and environmental factors that contribute to obesity to the project. They both have experience in delivering evidence-based health behavior interventions to low-income and minority populations.
The study will be guided by developmental niche theory, which organizes information about the microenvironment of the child into three interrelated components: physical and social settings; customs involved in childrearing; and ethno-theories of the caregivers. Analysis of these three components provides a means of detailing the complex and implicit ways that culture is instantiated into daily family life. This approach is consistent with calls from leading scholars and the NIH to move beyond broad labels of race, ethnicity, or immigration status, and instead focus on the processes by which culture and acculturation shape child development.
For the study, the research team will conduct interviews with 200 adolescent girls (50 percent Latina, 25 percent African American, and 25 percent non-Hispanic White) in the 9th and 10th grades at New Britain High School. The team also will interview the girls' mothers or other female caretakers.
The researchers will use a combination of quantitative and qualitative measures, including self-report surveys, daily calendars, a "four rules" task, a q-sort, and interviews.
In their daily calendars, the girls will record their activities and with whom they spent their time. For the four rules task, mothers and daughters separately will explain four household rules, and whether and how they would differ for sons and daughters.
For the q-sort, mothers and daughters will sort words into categories, such as how they see themselves or their daughters, and the attributes they believe women need for success. The interviews will ask mothers to describe where they envision their daughters in five years' time.
The study also will include two follow-up sessions by phone within six months.
Milan and Gorin hope that the findings from this two-year study will inform efforts to develop evidence-based, gender-responsive, developmentally and culturally-relevant health programming at New Britain High School, New Britain YMCA, and other local community centers.
"If we help create an intervention that promotes more positive health outcomes for this generation of girls – who will be the next generation of mothers, we're potentially impacting their future parenting styles and the health and well-being of their children as well," Milan says.
Sara Harkness, a UConn professor of human development and family studies who developed developmental niche theory with human development and family studies professor Charles Super, is serving as a consultant on the grant.