Feature Story
Health Center Today, October 27, 2010
Dr. Bruce Gould Recognized for Public Health Leadership
By Chris DeFrancesco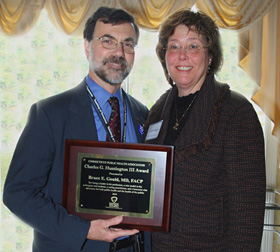 Dr. Bruce Gould accepts the Charles G. Huntington III Award from Huntingtonís widow, Susan.
Photo by Barbara Case
The Connecticut Public Health Association has named Dr. Bruce Gould, associate dean for primary care at the UConn School of Medicine, the winner of its inaugural Charles G. Huntington III Award.
CPHA introduced the Huntington award this year to recognize a health care practitioner who has demonstrated public health leadership and a commitment to the health and well-being of populations. Huntington was the UConn Health Centerís associate dean for community and continuing education, an associate professor in the Department of Community Medicine and Health Care, associate director of the Connecticut Area Health Education Center Program (AHEC) for 12 years, and past CPHA president. He died unexpectedly in December 2009.
An advocate for public health, primary care and preventative medicine, Gould also is AHEC director, medical director of Hartfordís Department of Health and Human Services, and medical director of the Burgdorf Health Center, a community clinic serving the underserved population in Hartfordís north end in collaboration with Saint Francis Hospital and Medical Center. He also is the founder of and an adviser to the Mobile Free Migrant Farmworker Clinic, which has served Connecticutís migrant farm worker population since 1998.
Gould is involved in the development and delivery of the medical schoolís quality improvement and patient safety curriculum and its nutrition curriculum. He helped establish UConnís Urban Service Track, a special mentorship program designed to produce doctors, dentists, nurses and pharmacists committed to serving Connecticutís urban underserved populations, and the Youth Health Services Corps, a nationally recognized recruitment program that trains and places high school students as volunteers in various health care agencies.
Susan Huntington presented the award named after her late husband to Gould during the annual CPHA conference at the Aquaturf in Southington October 22.