Feature Story
Health Center Today, October 19, 2010
President's Letter to University Community
TO: The University Community
FROM: Philip E. Austin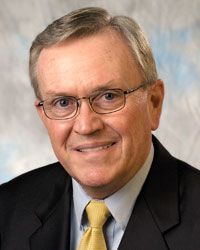 Philip E. Austin
It is now approximately four months since I assumed my responsibilities as interim president. Fall semester is in full swing, the hub of the Storrs campus looks like one of the most active construction sites in the country, new faculty and students have settled in, and many of us are already engaged in planning for the next academic year.
As I said last June, I expect my tenure in this position to be relatively brief, and in terms of my own role this is not a time for dramatic new initiatives. On the other hand, a university as dynamic and ambitious as ours cannot stand still and all of us have an important role in maintaining our momentum. We hope to continue succeeding in that regard.
I want to report briefly here on the major challenges and opportunities that we are dealing with this term and that will, most likely, occupy us through the 2010-2011 academic year. A few may come to resolution in that time; others will await the new president and his or her administration. But all of them merit the attention of faculty, students, staff, and friends of the University.
The Economic Environment and the University Budget
On June 10, the day before I moved into the interim presidency, the Board of Trustees approved Fiscal Year 2011 Spending Plans and Fiscal Year 2012 and 2013 "Appropriations Requests" for the Storrs-based programs and for the University of Connecticut Health Center. The FY 2011 figures are relatively firm—i.e., barring unforeseen calamities, not likely to alter much as the year proceeds. The requests for FY 2012 and 2013 are much more tentative, almost certain to change dramatically depending on economic and political events. Still, the request represents an important starting point for development of final spending plans for those outlying years.
I had no role in developing these budget proposals, but I endorsed them and, with respect to FY 2011, am working to implement the Board's decisions. It goes with my job description to
say that the University should be receiving a higher state appropriation and that resource limitations impede our ability to achieve goals important for our students and the people of Connecticut. That is true. But in my opinion the budget approved by the Board reflects the best possible reconciliation of multiple competing needs: to keep tuition and fees to affordable levels; to maintain essential services—including, at the Health Center, clinical services; to recruit and retain outstanding faculty; and, at the most fundamental level, to protect the integrity of our teaching and research programs. The FY 2011 spending plan, which includes just over $1.032 billion for the Storrs-based programs and $787.3 million for the Health Center, permits us to do all these things. The proposals for FY 2012 and 2013 will, if approved without much modification, allow us to continue and expand our efforts.
That said, we do have some special budgetary challenges this year. Most are due to the economic slowdown and problems confronting the state. For the Storrs-based programs, these include a State-imposed mandate that we transfer to the State a total of $23 million in so-called "reserves" by next July 1. In reality, the University has only minimal resources that could truly be called "reserves"—that is, funds held aside without specific commitments attached to them. The vast majority of the $23 million represents funds set aside for much-needed infrastructure improvements. Unless the State changes its directive, we need to change our plans in order to meet this mandate.
The largest component of the University's budget—about 55% for the Storrs-based programs—is the cost of personnel. This leads to a second challenge. This year the University will increase personnel expenditures by about $19.3 million (including fringe benefit costs) due to collective bargaining increases, a well-deserved enhancement in compensation for dedicated faculty and staff who have deferred prior-year increases to help address Connecticut's and the nation's economic crisis. In past years the State has routinely increased its grant to the University to cover this cost. Not so in 2010-11. The State provided the Storrs-based programs with $233 million this year, the same amount as last year (not counting the $23 million rebate discussed above). Thus we had to absorb added personnel costs in our operating budget. The spending plan approved by the Board addressed this problem, but at the cost of deferring other important needs.
At the Health Center, while most attention is now focused on the new collaboration with Hartford-area institutions and sorely-needed construction of new facilities, the academic, research and clinical operations proceed at a high degree of distinction (discussed below). This year's budget reflects a modest ($1.6 million) increase in State funding, largely in recognition of such structural challenges as a high proportion of Medicaid patients at John Dempsey Hospital. An ongoing "value analysis" project is examining ways to reduce costs and enhance operations, and several energy conservation efforts are yielding long-term savings in the operating budget.
Similarly, at Storrs and the regional campuses, despite our challenges we are making major progress in key areas. Provost Nicholls has authorized 55 faculty searches for new hires effective in Fall 2011, filling some of the positions vacated through the early retirement incentive program and other faculty departures in the past few years. (Another 55 searches are proceeding for non-faculty positions.) Our student-faculty ratio, which we would like to hold at about 15:1, has been hovering between 17:1 and 18:1 for the past five years; the 55 new faculty will move us back in the right direction. There has been modest funding for some other new initiatives, such as for the growth of our undergraduate honors program, an increase in the number of Living and Learning communities (combined residence hall/academic settings geared to students with specific interests), and membership and participation in "Universitas 21"—a prestigious international network of universities in fifteen countries that creates exceptional opportunities for collaboration and exchange.
Moreover, the University continues to explore cost-savings and efficiencies, particularly in areas that are not part of our central research and teaching mission. At the direction of the Board of Trustees we are implementing a "Strategic Redesign Initiative" to determine how we can better fulfill administrative functions, and to this end we are in the process of retaining an external consultant to oversee a detailed study of our non-academic operations. More information will be provided as this project proceeds.
Let me add three final points. Our immediate fiscal concerns are as real as they are challenging. But I urge all my colleagues—and I will urge the new president—to bear in mind a set of fundamental realities that are probably more significant for the University's long-term future. First, without doubt the State of Connecticut has serious budgetary problems—but they are nowhere near as severe as those in many if not most other states. The data can be spun fifty different ways, but the essential reality is that Connecticut is one of the most economically advantaged states in the union. Over the long haul our state is well positioned to maintain an excellent flagship public university, adequately funded and positioned for excellence.
Second, over the past twenty years most of Connecticut's political leaders have come to realize the vital role UConn can play in enhancing the state's economic position—as well as its quality of life. That realization led to passage of UCONN 2000 and 21st Century UConn and it provides the basis for the potential advances at the Health Center. I hope and believe it is still a strongly-held view. Of course we will hear much in this political season—and, no doubt, in the next year—about the need to use resources wisely and cut costs where we can. I do not disagree with those goals. But I am confident that if we continue to present our case clearly and forcefully, our elected leaders and the public at large will avoid the temptation to achieve short-term savings at long-term costs. And an informed public will support them in that determination.
Finally, as noted above, despite our fiscal challenges UConn continues to recruit faculty and staff, and, as is appropriate at a university like ours, the hiring process engages literally hundreds of members of the community who serve on search committees or are otherwise engaged in the selection of outstanding new colleagues. Our zeal to fill the 55 faculty and 55 non-faculty positions must include a renewed commitment to diversifying our institution. While we have recorded successful hires through the Provost's Faculty Excellence and Diversity Program and other means, the reality is that our overall diversity demographics have not moved ahead as we would have liked.
Change in this area requires thoughtful and deliberate attention to strategic recruiting and departmental hiring processes for every position. I call upon every faculty or staff member appointed to a search committee to be proactive and creative in discharging their duty to conduct full, open searches designed to build broad and diverse applicant pools. From these pools, of course, the search committees and hiring departments must then choose the best candidate for the job.
The UConn Health Center
Recent months have been a time of transformative action at the University of Connecticut Health Center. The legislation approved by the General Assembly and signed by Governor Rell last spring created a "UConn Health Network" umbrella and now paves the way for the first major renovation and expansion project in the history of John Dempsey Hospital. It also brings together a set of innovative instructional, research and clinical initiatives to address health issues in the Greater Hartford area through the new "UConn Health Network."
I have long believed that UConn cannot be a great university without an outstanding academic health center that includes first-class Schools of Medicine and Dental Medicine and an excellent, on-site hospital that fulfills both clinical and teaching functions. Dempsey has long been an institution of exceptional quality, but it is one of the smallest university hospitals in the country, limited in terms of the number of patients it can serve and not as well-structured as it needs to be to meet the space demands of 21st century medical technology. Its expansion is essential not only to the ongoing fulfillment of its academic function, but to the long-term financial viability of the Health Center as a whole.
The plan approved by Connecticut's elected officials came after long deliberation and close consideration of competing alternatives. By providing for the addition of 50 new medical-surgical beds, it will help Dempsey meet critical resource needs in the coming years. Moreover, the new facilities called for will provide increased teaching space, ease of access for medical equipment, and enhance patient privacy.
Several important steps are now underway to transform the promise of the State's commitment into reality. Following a fully competitive bidding process, the Health Center has awarded a contract to an architectural firm, Steffian Bradley Architects-HKS, that will design the new patient tower. Once the firm begins its work, Health Center faculty and staff will have the opportunity to provide both conceptual and detailed input into this project. Vice President for Health Affairs and Dean of the School of Medicine Cato Laurencin has made clear his commitment to assuring that all his colleagues have the opportunity to share their ideas and insights.
Concurrently, the Health Center and Connecticut Children's Medical Center have submitted a joint Letter of Intent to the Connecticut Office of Health Care Access as the first step toward filing an application for a Certificate of Need for Connecticut Children's to be the licensee for the Neonatal Intensive Care Unit and Special Care nursery beds located at the Health Center and, in turn, to add more medical-surgical beds to the Health Center's license. The details are complex, but the basic concept of this collaboration is that neonatal care will continue to be offered on the Health Center campus but the unit will administratively be part of Connecticut Children's, which has an established leading role in neonatal services in our region. Our two institutions have shared a close relationship for many years, and we are now entering a new phase—one that will be guided by our shared values and commitment to excellence in all aspects of clinical care, education, and research. We are hopeful that the Certificate of Need will be approved within a few months.
Another, equally important effort involves our application for $100 million in U.S. Department of Health and Human Services funding for the John Dempsey Hospital renewal project and the UConn Health Network. Our overall plan, as approved by the General Assembly and Governor, provides for upgrades to the existing hospital as well as the construction of a new patient care tower. The total projected cost is $362 million. For the Dempsey renewal plan, the State has committed $207 million and the Health Center is contributing $25 million from its 21st Century UConn institutional funds. For the UConn Health Network, the State is providing $33 million in bonding. The remaining $100 million must come from other sources and the allocation of State funds is contingent on receipt of this non-state support. Among the provisions included in the federal healthcare reform legislation approved early this year is language advanced by Connecticut Senator Chris Dodd that provides funding to assist academic medical centers with construction projects. Only one $100 million grant will be made, but this is not an earmark. Eligible institutions—and there are several across the country who fit the federal government's guidelines—must compete for this funding. Our application was submitted on October 4th. Our case is a strong one, our documentation is equally strong, and I am cautiously optimistic that our efforts will meet with success.
With this and other aspects of the UConn Health Network underway, the Health Center's basic work proceeds at its customary level of distinction. A new school year began in August, with outstanding new cohorts—89 new medical students and 50 new dental students—joining us. The fiscal year that ended on June 30 marked the first year in which the Health Center received more than $100 million in external research funding. And new research facilities are making it possible to develop and expand the work of the UConn Stem Cell Institute, the Richard D. Berlin Center for Cell Analysis and Modeling, and the Department of Genetics and Developmental Biology.
Fundraising
The University of Connecticut Foundation is now about thirteen months into the public phase of its $600 million campaign, labeled "Our University. Our Moment. The Campaign for UConn." Thus far approximately $230 million has been raised.
I cannot overemphasize the importance of private philanthropy to UConn's continuing progress as we deal with long-term limits on State support and an ongoing effort to keep tuition and fees affordable. Nor should I understate the challenges that confront a campaign of this magnitude at this point in time. Economic downturns always have an impact on philanthropy; that was the case in the early 1980s, the early 1990s, and in 2002-03. But those in the field report that the current climate is characterized by an unprecedented degree of anxiety. How long that will last is anyone's guess.
UConn's $230 million in receipts and commitments, while short of where we expected to be at this point when the Foundation developed its benchmarks in the pre-2008 era, nevertheless represents notable success in the current economic climate. As is the case with all effective fundraising efforts—and as was certainly the case with the UConn campaign that concluded in 2004 and generated $326 million in various types of support—a strong campaign requires a combination of clear objectives closely linked with an overarching academic plan and/or facilities plan, an effective fundraising structure, and close linkage with all key segments of the university community. The current effort has all three.
The campaign is, in fact, grounded firmly in the key elements of the academic plan adopted by the University two years ago. Early in the formative stages the Foundation leadership met with each of the academic deans to determine what each school or college hoped to achieve during the period covered by the academic plan, and to identify priorities that were fundable and potentially attractive to donors. In each case the focus was on what would be required to elevate the school or college, and the University as a whole, to the next level of national or international stature. A theme that goes across the entire institution is the need to recruit an ever more diverse and outstanding cohort of faculty and students, enhance teaching, research and public service programs, and continue to improve facilities even beyond what UCONN 2000 and 21st Century UConn have made possible.
Many members of the University community are only vaguely aware of how the Foundation's fundraising effort is organized and this sometimes creates the impression that major gifts come in randomly or as the result of good luck. That may happen occasionally, but it is rare indeed. In fact, the Foundation devotes more than 50% of its fundraising staff (about 12-15 people at any given time) to major gifts fundraising, with each person either assigned to a specific school or college or assigned to a specific area (e.g., the Honors Program or Libraries) or a region. Other staff are assigned to the Annual Fund, raising current operating funds for scholarship, student affairs, cultural and student enhancement programs such as study abroad. This model, fairly standard at major universities, has been in place here for about 15 years—the period in which we have moved from an $8 million annual support level with a $40 million endowment to our current level of about $50 million per year and an endowment that stood at $246 million at the end of the 2010 fiscal year.
How the funds are invested is equally important. Four full-time professionals, assisted by several graduate student interns, guide our investment management program under the direction of a very active Investment Committee of the Foundation Board of Directors and with the aid of a roster of fund managers contracted by the Foundation to handle various types of investments. The challenges confronting investment managers are, of course, unprecedented in the current environment, and it is a point of special pride that the trade magazine Foundation and Endowment Money Management recently cited the UConn Foundation as one of three nominees for Small Nonprofit of the Year.
The UConn Foundation is, of course, the primary agent in raising and managing private support. Fundraising is, however, also a clear responsibility for many others within the University. Deans, department heads, senior administrators—and presidents—all have an important role in communicating the University's aspirations and needs and, often, in bringing major philanthropic relationships along. But faculty, staff, and even students have played a critical part in shaping institutional priorities and identifying areas of focus. The current campaign is an ongoing example of a University-wide approach to generation of private support. In this context, I cannot fail to mention the generous support that so many members of the UConn community—faculty and parents in particular—are providing as the Foundation moves toward its $600 million goal.
Let me close by mentioning just a few major gifts that have come to us since the public phase of the campaign began in September 2009.
Former University Board of Trustees Chairman John W. Rowe and his wife Valerie contributed $2,000,000 for the John and Valerie Rowe Health Professions Scholars Program Endowment Fund.
The Maurice L. Farber Trust gave $2.2 million to provide scholarships to students in Psychology.
Ray Neag, Class of 1956, and Carole Neag supplemented their ongoing generous support for the University with a $1.3 million gift to the UConn Health Center. The Neags have contributed $17.2 million to the current campaign.
Gary Gladstein, Class of 1966, pledged $1,150,000 for the Judi and Gary Gladstein Distinguished Chair in Human Rights and the Human Rights Fund.
Robert and Carlotta Holster, both of the Class of 1968, donated more than $1 million to support the activities of the Honors Program.
Former U.S. Budget Director Charles Zwick, Class of 1950 and Graduate School Class of 1951, donated $1 million to support the College of Agriculture and Natural Resources.
Further information about the Campaign, with a more complete roster of major gifts, is available at www.ourmoment.uconn.edu.
Research and Graduate Education
The last two decades have been a time of dramatic progress on multiple fronts. During my service as permanent president I regularly reported on rises in SAT scores, construction of world-class facilities, recruitment of outstanding faculty, movement into the top ranks of collegiate athletic competition, and so much else. The trend lines were in place before I arrived in 1996 and continued after I left this office in 2007. Despite our current economic challenges, they continue today and are widely understood and appreciated throughout the state.
Though the key determinations in this area will fall to the next president, I believe that we have the capacity to accelerate our progress in two areas less frequently mentioned outside academia: research and graduate education. Certainly we have much of which to be proud. The numbers tell part of the story: external grants across the University climbed from $148 million in FY 2001 to $210 million in FY 2009 (and at Storrs alone they rose nearly 30% between FY 2007 and FY 2009), and I am particularly pleased that our faculty received a total of over $40 million in competitive funding through the American Recovery and Reinvestment Act (the federal "stimulus" program). Perhaps even more important, UConn is playing a leadership role in such key areas as the science and ethics of embryonic stem cell research, development of fuel cell and other alternative energy sources, and the academic analysis of issues pertaining to human rights. This is only a very partial list.
These advances have not come about by magic or by luck, but have resulted from important choices and hard work. Construction of new facilities has played a key role both in Storrs and in Farmington, and the new facilities in both places—especially the major expansions at the Health Center—will allow us to accelerate our momentum. The facilities, often coupled with philanthropic support, have enabled us to lure top-flight researchers who in turn help recruit junior faculty of outstanding promise. In a growing number of fields UConn is now a place where graduate students come to work with recognized leaders in their field.
This is a story that needs to be better known, not just here in Connecticut, but in the national and even international academic community. Institutional reputation, regrettably, often lags behind reality; this helps some universities and hinders others. (I note, for example, that the National Research Council rankings that just came out are based on data collected in 2005-06.) At conferences and colloquia, in the pages of the major journals and in the annual lists of the first-tier publishers, our faculty are doing a great deal to inform their peers about the exceptional work being done at UConn and assure that the academic community notes our progress in multiple disciplines. The University administration is—and, under a new president, I am sure will remain—committed to helping in every way possible.
I want to mention just two aspects of our research progress that I happened to see at close hand within weeks after I came back into this office. Each is noteworthy in itself, but even more, they demonstrate something much broader for the University as a whole.
First, one of the earliest events I attended was a celebration that commemorated the University's accreditation by the Association for the Assessment and Accreditation of Laboratory Animal Care (AAALAC) and recognized the many people whose years of hard work led to this achievement. I have always believed that a top-tier research institution should pursue and attain accreditation in every area in which this is a widely recognized credential; more important, I know how essential it is that our activities are fully compliant with all relevant federal, state, and professional standards and regulations. Early in the last decade it became clear that UConn had some distance to go in meeting that objective with regard to laboratory animal care, and while most of our problems were in the administrative and record-keeping realm they were still cause for concern. The attainment of AAALAC accreditation is important in itself (and, I should note, puts the Storrs campus in company with the Health Center, which has maintained this accreditation for many years). But it is even more significant as a symbol of our drive to meet the highest standards in all aspects of research.
Second, among my early meetings was a gathering with the UConn team charged with our programs in technology transfer. "Tech transfer" is a broad term that describes the connections the University helps forge between a productive faculty and a private sector that can bring the product of faculty research to market. When it all comes together, the outcome is good for the professor, the business, the University, and, perhaps most important, for Connecticut's economy. UConn entered this arena in 1999. Thus far the results have included 202 patents issued, 161 technology licenses and options, and 34 start-up companies. We can account for the creation of nearly 200 jobs in FY 2010 through our commercialization programs and are pleased to report that two UConn companies—ImCorp and Renzulli Learning—were recognized in 2009 and 2010 respectively among Inc. magazine's 5000 fastest growing companies in the United States. We are clearly still in the foundation stages of an enterprise that may play a critical role in the coming years.
Here, too, the activity is important on its own terms, but equally significant as a symbol of something larger. It has been said many times but perhaps not often enough in this political year: Connecticut's position at or near the top of national income rankings depends almost exclusively on the cultivation of its knowledge-based economy. No institution in the state is more important to that than the flagship public research university, and we at UConn stand ready to expand our role. UConn-developed technologies create good, high-paying jobs—as does UConn research in health care, UConn clinical care, UConn athletics and cultural activity, UConn training in social service professions—and the list goes on. If, as the polls suggest, Connecticut's key political issue is "jobs," this University is central to any rational strategy to meet the state's need.
I want to add a further word about the NRC rankings. UConn programs in Animal Science, Biomedical Science, Communication Science, Ecology and Evolutionary Biology, Electrical Engineering, English, Environmental Engineering, French, Kinesiology, and several other programs ranked high; this recognition is well-deserved and a point of pride. Other programs did not achieve the recognition they merit. In part this is a function of time: as noted, the ratings are based on data several years old and thus any comparisons between UConn and other universities is at best historical. Moreover, the NRC's methodology and data collection has been controversial within the academic community, leading the organization to issue a statement that says, in part, "Production of the ranking turned out to be more complicated and to be accompanied by more uncertainty than originally thought. As a consequence, the illustrative rankings are neither endorsed nor recommended by the National Research Council as an authoritative conclusion about the relative quality of doctoral programs."
The next president will need to look closely at the overall research enterprise. Questions about what to strengthen, what to expand, what to maintain and what to reduce are challenging at best, but it is essential that they be asked and considered with care. UConn's role as a major research university is without question. How that role is defined and implemented needs to be considered in the context of our pre-existing strengths, the needs of our state, opportunities for funding, and our ability to recruit and retain outstanding faculty. All members of our academic community should be engaged in discussions surrounding these issues.
A Civil Community
Let me close with some thoughts on a matter that should engage us all: the need to maintain and enhance a climate of civility across the university.
Institutions of higher education are by their nature active, exciting places, filled with individuals from infinitely varied backgrounds pursuing goals that are as ambitious as they are diverse. This does not describe just our students; it is, or should be, an accurate characterization of our faculty and staff as well. UConn—which now enrolls more than 30,000 students, boasts a faculty that includes many at the cutting edge of their discipline, and is home to a dedicated staff—fits that description. This ranks at or near the top of things for us to celebrate about our University.
The best way to protect and indeed promote vigorous debate in an academic setting is to assure a climate of civility across the campus. Counting students, faculty and staff, UConn is a statewide community of more than 40,000 people. The only way for an institution like this to function is if we agree to uphold standards of tolerance and respect—in the classroom, in the residence halls, in faculty offices, on the grounds. This does not mean avoiding points of difference. It does mean treating one another with courtesy and kindness; never participating in or sanctioning discrimination based on race, gender, religion, sexual orientation or any of the other characteristics that often falsely divide us; and not questioning one another's motivations. In workplace situations, it also means doing everything possible to make the lab or office or grounds a positive place to be, free of intimidation and hostility. To help move in that direction, the University's Code of Conduct is being updated to include more focus on the importance of civility in the workplace.
UConn has grown in many ways in recent years, and in one way or another, that growth is likely to continue. The specifics—enrollment targets, goals for staff and faculty hiring, construction of additional housing and related matters—will be a matter for the next president to take up with the faculty, students, staff and ultimately the Board of Trustees, so I will not comment on them here. But however much we expand in terms of numbers or buildings, the fundamental challenge of maintaining a true "community" will remain a responsibility for all of us to share.
On a final, personal note: I have now been in the Interim Presidency for approximately four months. This has been an active time at Storrs, at Farmington, and at the other campuses, and I take this as a sign that UConn is as vibrant a place as it has ever been. I cannot say how long I will be in this office; that depends on the progress of the Presidential search. Though I have had minimal direct involvement with the search, I understand that it is going well and that the committee has already received many outstanding applications or nominations. That is no surprise. There are few jobs in American higher education that would be more appealing than leading the University of Connecticut.
It has been good to renew many old friendships that were forged when I served as president from 1996 to 2007, and to make a number of new friends as well. I appreciate deeply the good wishes sent my way, and I appreciate even more the many offers of help. Despite all the day-to-day challenges—some of them outlined above—this continues to be an outstanding university with which we should all be proud to be associated.
As always, I welcome your thoughts on this letter and on the progress of our institution.