Feature Story
Health Center Today, October 25, 2010
Stabenau Lecture: Modern Research Techniques to Study Autism, Schizophrenia
By Chris DeFrancesco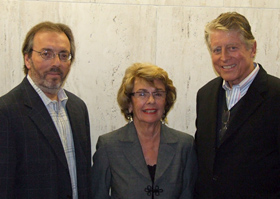 Dr. Herbert Lachman (left) with Dr. James Stabenau and his wife, Barbara, after Lachman's presentation at the October 21 Stabenau Lecture.
Photo by Chris DeFrancesco
Genetic and stem cell research are offering new potential paths to the causes of disorders like autism, bipolar disorder and schizophrenia.
At the latest presentation in the Stabenau Lecture series, Dr. Herbert Lachman, professor of psychiatry and behavioral sciences at the Albert Einstein College of Medicine in New York, discussed how studying genes and chromosome abnormalities could lead to a better understanding of the disorders and how to treat them.
"Clearly we have a long way to go to find ways to treat these conditions properly," Lachman says. "The modern medical view of disease is that if we understand the molecular and genetic basis of the disease, we can design drugs that target those processes and come up with ways to manage illness."
Lachman, who also is director of Einstein's Program of Behavioral Genetics, says his lab recently started working with induced pluripotent stem cells to study schizophrenia. Stem cells derived from adult skin cells can be grown into neurons with the genetic characteristics of a schizophrenia patient. These living neurons can be used for scientific investigation and drug testing.
In the meantime, Lachman says the most effective therapies may be approaches that parents, educators and social workers already are taking with autistic or mentally disabled children.
"They're doing it the natural way… through empathy, attention, and hard work. And that ultimately is going to be what's going to help these kids," Lachman says.
The October 21 talk at the Low Learning Center was the latest in the Stabenau Lectures, a lecture series established in 2007 with a gift from Dr. James Stabenau, the first chair of the UConn Health Center Department of Psychiatry, and his wife, Barbara.A video of Lachman's presentation will be available online in the near future.