Feature Story
Health Center Today, October 14, 2010
Congressman Holds Roundtable Discussion About Stem Cell Research
By Carolyn Pennington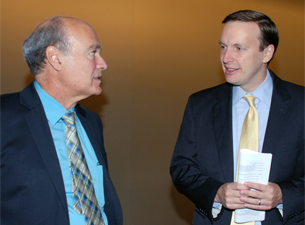 Marc Lalande, director of the Stem Cell Institute (left) and 5th district congressman Chris Murphy.
Photos by Janine Gelineau
5th District Congressman Chris Murphy held an informational meeting concerning the latest developments in stem cell research at the newly renovated Cell and Genome Sciences building on Farmington Avenue on Thursday. Murphy was accompanied by Congresswoman Diana DeGette of Colorado, one of the foremost advocates for stem cell research in Washington.
Marc Lalande, professor of Genetics and Developmental Biology and director of UConn's Stem Cell Institute, was among the researchers taking part in the roundtable discussion. Others from UConn included Ted Rasmussen, a principle investigator at the Center for Regenerative Biology in Storrs, Dr. Ren-He Xu, director of the Stem Cell Core, and Stormy Chamberlain, an assistant professor of Genetics and Developmental Biology at the Health Center.
Patient advocates representing Alzheimer's, Parkinson's and multiple sclerosis groups also participated in the discussion, along with Milton Wallack, founder of the Connecticut Stem Cell Coalition, and Laura Grabel with Wesleyan University.
The event was well-timed considering some of the important developments in stem cell research that have occurred recently. Earlier this week, a California company announced it has begun testing an embryonic stem cell treatment in a patient with spinal cord injuries, the first time such a medical therapy has been used on a human in a government-approved study.
But the participants spent most of the time talking about a decision that took most stem cell researchers by surprise. In August, a federal district court judge found that the Obama administration's stem cell policy violates a law barring federal financing for "research in which a human embryo or embryos are destroyed, discarded or knowingly subjected to risk of injury or death," and issued an injunction blocking federal money for the research.
Even though a federal appeals court last month allowed the government financing to continue while legal arguments wind their way through the courts, researchers told Murphy and DeGette that the damage has been done and they are hesitant to submit grants involving human embryonic stem cells.
"I have heard a lot of researchers say if you're new in your career, isn't it kind of risky to be staking your research future on human embryonic stem cells because it could all just disappear," said Rasmussen.
"We now have this uncertainty that we can't write stem cells into our federal grant without being fearful that they will pull the grant and not even give us a shot at it," said Chamberlain. Chamberlain is a young investigator who came to the Health Center to take advantage of the state's stem cell funding with the intention that it would someday turn into a federal grant. Chamberlain received a $200,000 grant from the state in 2009 to develop a human cell culture model of Angelman Syndrome for drug screening.
Chamberlain added, "Not to mention that now with the state being in such financial trouble we can't be assured of state funding from year to year either so if that should go away, we're all in a world of hurt."
While a state legislator, Murphy was instrumental in passing legislation in 2005 that helped fund embryonic stem cell research.
"We made a commitment of $10 million a year for over 10 years and over a very short period of time, Connecticut has become one of the centers of excellence for stem cell research and embryonic stem cell research in the country," said Murphy.
Both Murphy and DeGette said when they return to Congress in mid-November, they will work diligently to pass a stem cell bill that will ensure research will continue without the threat of judicial interference.
Lalande said the meeting served as a good opportunity to remind our federal representatives that UConn is a leader in stem cell research. "We want to move embryonic stem cell research from the lab to the patient," says Lalande. "So it's important to have them come here, see our new research building and meet our scientists. Hopefully they'll go back to Washington and say, 'in Connecticut we have an outstanding stem cell program.'"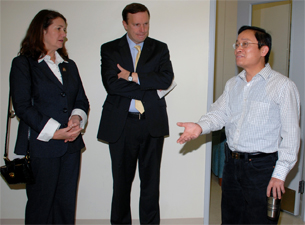 Dr. Ren-He Xu (right) discusses his stem cell core lab with Reps. Diana DeGette and Chris Murphy.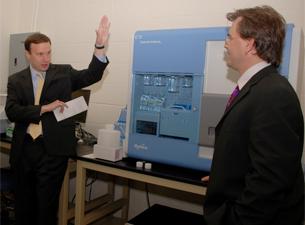 Congressman Chris Murphy (left) and Brenton Graveley, associate professor of Genetics and Developmental Biology, discussing the genome analyzer which rapidly sequences genetic material for research.