Feature Story
Health Center Today, October 13, 2010
Crippled by Rare Tumors, Patient Walking Again
By Chris DeFrancesco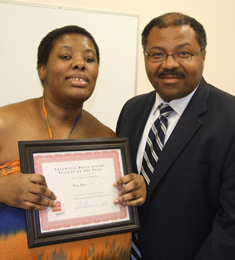 Ebony Adams shows her "Traumatic Brain Injury Patient of the Year" award from the Easter Seals at a recent visit with Dr. Patrick Senatus.
Photo by Chris DeFrancesco
Ebony Adams has a tumor on her spine and will need an MRI in less than a year.
To the 33-year-old single mom from Hartford, that's good news.
"Things are going very well for me," she says.
The tumor is a fraction of the size it once was, and at her last checkup, Adams was told things looked good enough that another follow-up appointment wouldn't be needed for another year, rather than the six months she expected.
Adams came to that visit with a message to her doctor from her 12-year-old son, who was unable to accompany her because his school year had just started.
"My son wanted to come and tell you himself, thank you for saving his mom's life," she told Dr. Patrick Senatus, neurosurgeon in the New England Musculoskeletal Institute's Comprehensive Spine Center.
It's been nearly three years since Adams learned she had a rare, life-threatening medical problem. Over that time she had multiple surgeries, long stints in intensive care and rehabilitation, radiation therapy, and more rehabilitation, during which she had to learn how to do things like walk, speak and write all over again.
For most of 2007, Adams had trouble raising her right arm and turning her neck, and had upper back pain and headaches.
"I had excruciating pain in my head, pressure pulling down," Adams says. "It hurt so bad I would literally cry. My eyes would burn it was so intense. And I had a hard time balancing. I had fallen a few times."
The symptoms were baffling to her and her doctors. That December, she went to the Health Center Emergency Department for an MRI. Little did she know, when she was admitted the following morning, it would be more than a year before she would take another step.
That same morning is when she met Senatus.
"He had a bizarre look on his face," Adams says.
"I told her she has a spinal cord tumor, and this was likely causing her symptoms," Senatus says. "It was too big to be safely addressed with radiation and would require a surgical procedure."
"I paused for a long time. I took a long, deep breath," Adams says. "What I felt was a sense of relief, finally knowing what it was. I asked, 'Is this life-threatening?'"
"Her life was in danger because this lesion was within the brain stem itself where vital centers for breathing, regulation of blood pressure, and other vital functions were located," Senatus says. "It's such a sensitive area that even if you perform a perfect technical resection, a patient can still lose the ability to breathe on his own."
"I cried like a baby," says Adams, whose family was still coping with the untimely death of her 21-year-old sister 10 months earlier. "I wasn't so much afraid for myself, I was more afraid for my parents and my two kids."
After lengthy spinal cord surgery, most of the tumor was successfully resected. However the patient's post-surgical management became even more complicated when the cerebrospinal fluid, or CSF, which bathes the central nervous system, began leaking.
"It became evident that we would have to divert the fluid to stop the leakage," Senatus says. "Using an endoscope, we discovered a blockage caused by a ventricular cyst within the brain. It became apparent that the ventricles were not in communication with each other."
This was an entirely new problem, above and beyond the cervicomedullary ependymoma, the tumor on her spine.
"Through several surgical procedures we were able to resect the ventricular cyst and divert the CSF flow to allow her spinal wound to heal," Senatus says.
It would mean several surgeries over a three-month period.
"It's rare to have this giant cervicomedullary ependymoma, but to have simultaneously a ventricular cyst as well is exceedingly rare," Senatus says. "But once we were able to successfully divert her cerebrospinal fluid we knew at that point she'd be able to leave the hospital, go to rehab, and start building everything back."
"I was scared," Adams says. "I had counselors in my room. I always had a chaplain or my aunt or uncle with me. I wanted someone there who was a believer and had faith. My faith helped me get through."
Adams went from intensive care to a rehabilitation clinic, and started 30 days of radiation therapy to deal with what was left of the tumor.
"That was the worst out of everything," Adams says. "It made me so sick, so nauseated, I was too sick and drained out to go to rehab every day. I was so depressed sometimes I didn't want to get out of bed."
By the summer of 2008, Adams had moved in with her mother and started outpatient occupational, physical and speech therapy at the Easter Seals Greater Hartford Rehabilitation Center in Windsor.
In February of 2009, the Easter Seals presented Adams with a certificate recognizing her as the "Traumatic Brain Injury Patient of the Year." Weeks later she was walking again without assistance.
"This has taught me patience, courage and bravery," Adams says.
"We are so grateful to everyone in the O.R., ICU, anyone who was involved in Ebony's caring—thank you so much for everything you did for us in our time of need," says Glenda Thomas, Adams' mother.
Senatus says Adams had to relearn everything and it was a slow process of recovery, but her progress has been excellent.
"She's able to ambulate, she's using her hands, able to write, and more importantly, she's able to enjoy time with her children," Senatus says. "We wanted to make sure she was around to see her kids grow up. She had a very involved family, which was very important and supportive for her, and she had very strong faith. Making sure she would see her children grow up was certainly a motivating factor for everyone involved."
Regarding the treatment approach, Senatus says, "Giant tumors of this type are rare and require an appropriate multidisciplinary team and level of expertise. It requires specialized neurosurgical, anesthesia, and intensive care expertise found at leading academic medical centers. I'm proud of how our institution performed for Ms. Adams."
"I don't know what I would have done if Dr. Senatus didn't come into my life," Adams says. "I really feel God gave me that opportunity. It's been a long road, but by the grace of God, I am doing much, much better."