Feature Story
Health Center Today, September 1, 2010
Army Grants Back Bioengineer's Effort to Regenerate Tissue
By Chris DeFrancesco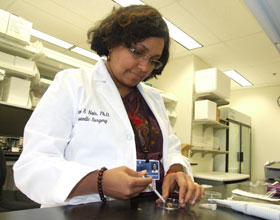 With the backing of two U.S. Army grants, Lakshmi S. Nair is studying ways to stimulate bone and cartilage regeneration.
Photo by Chris DeFrancesco
The U.S. Army has awarded bioengineer Lakshmi S. Nair, assistant professor and researcher in the Departments of Orthopaedic Surgery and Chemical, Materials and Biomolecular Engineering, two grants to further her study of regenerative biomaterials as she explores ways to regrow musculoskeletal tissue.
"The overall goal of my research is to create a new generation of tissue-inducing microenvironments," Nair says. "We believe that by developing biomaterials that can interact with cells involved in wound healing and favorably modulate their responses—in this case, regenerative biomaterials—we could significantly alter the tissue repair process and enhance tissue regeneration."
This approach to introducing biomaterials has the advantages of being highly cost effective, accommodating to the structural irregularity of the defects, and being implantable in a minimally invasive manner, as carriers of cells and growth factors.
A three-year, $614,372 Idea Development Award will back Nair's work with polysaccharide-based (derived from natural sugar chains) injectable formulation that exits as a liquid when cooled and becomes a solid at body temperature.
Some of Nair's work in this area has been published, including articles in The Laryngoscope and the journal Biomacromolecules.
The second grant is an 18-month, $150,000 Hypothesis Development Award to support Nair's effort to develop a new protein-based injectable that could be used to induce the regeneration of bone and cartilage.
Nair is part of a team of scientists who joined Dr. Cato T. Laurencin when he came from the University of Virginia to the Health Center to become its vice president for health affairs and medical school dean in 2008.