Feature Story
Health Center Today, September 28, 2010
UConn License Plate Now Available
By Lisa Lewis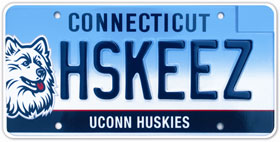 UConn fans and alumni now have a new way to show their Husky pride: the official UConn collegiate license plate. Beginning this month, anyone with a vehicle registered in Connecticut can purchase the plate, which shows Jonathan the Husky and says "UConn Huskies" over a blue background.
The plate is being offered through the UConn Alumni Association. The $55 fee for the plate will enhance efforts to connect alumni, support students, and strengthen the University; 70 percent of it counts as a tax deductible gift to UConn. Specifically, the license plate fees will help fund student scholarships, student mentoring, and other alumni and student programs.
When drivers re-register their car every two years, the $55 fee is charged in addition to their regular registration fees.
Anyone interested can visit www.huskiesplate.com, which includes a section of Frequently Asked Questions.
"This is a great chance to show your pride in UConn and support the University at the same time," says Lisa Lewis, executive director of the UConn Alumni Association. "We're thrilled to be able to offer this plate to UConn fans across the state."
Changing from a current plate to the new Husky plate is easy. Anyone interested should:
Go to huskiesplate.com.
Print and complete the application.
Mail it, along with a check, to: Department of Motor Vehicles, Special Plate Unit, 60 State Street, Wethersfield, CT 06161-0504.
The new plates will arrive in two to six weeks.
"The collegiate plate gives Connecticut residents a dynamic way to support and strengthen the University of Connecticut," says Robert Ward, commissioner of the DMV, who also serves on UConn's board of trustees.
For more information, contact Lisa Lewis, UConn Alumni Association, at 860-486-2240.