Feature Story
Health Center Today, September 2, 2010
Making Strides Against Breast Cancer Walk Kickoff
By Carolyn Pennington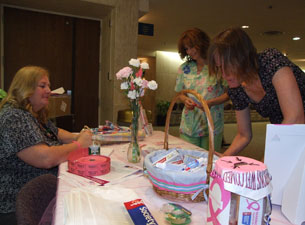 Pam Miles (seated) talks with Mary DiMauro (left) and Tara Morrison about the Making Strides walk.
A kick-off event to the Making Strides Against Breast Cancer walk was held recently in Keller Auditorium. The Health Center's 2010 team, led by team captain Lynn Brown, urged employees in attendance to sign up for the event scheduled for Sunday, October 17.
The Neag Comprehensive Cancer Center has teamed up again this year with NBC Connecticut as a sponsor of Making Strides – a spirited, non-competitive walk though Bushnell Park in Hartford. More than 7,000 people are expected to participate in this year's walk.
The money raised goes to funding groundbreaking research to help find a cure for breast cancer. It also helps support a number of American Cancer Society programs which include providing a free place to stay when outpatient treatment is far from home, helping women get access to mammograms and keeping phone lines open around-the-clock for questions that need answers.
Registration is free and the first 50 people to join the UConn Health Center team will receive free tee-shirts. For further information, contact Lynn Brown, 860-679-3927.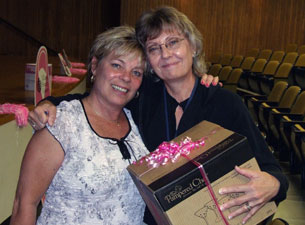 Health Center Making Stride's team captain, Lynn Brown (left), with raffle winner Patti Wawzyniecki.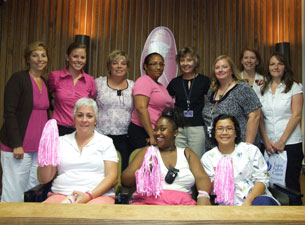 UConn Health Center Team for the Making Strides Against Breast Cancer walk.