RSS
Media Coverage
Feature Story
Health Center Today, September 28, 2010
Health Center Volunteers Help Remove Medications from Community
By Chris DeFrancesco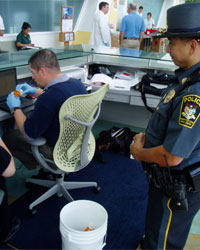 A Health Center police officer observes as a volunteer handles a prescription medication vial.
Photos by Tom Buckley
More than 9,000 pills and patches, plus nearly 350 pounds of other pharmaceuticals, were collected by a group of UConn Health Center pharmacists, UConn pharmacy students and other volunteers at a medication drop-off event on the Health Center campus.
The Medical Arts and Research Building was one of more than 40 collection sites in Connecticut on National Prescription Drug Take-Back Day, a coordinated effort between the Drug Enforcement Administration and local law enforcement, public health and community officials to remove potentially dangerous prescription drugs from the community.
"We turned over a total of 275 prescriptions for controlled substances to the UConn Police Department," says Health Center pharmacist John Dobbins, who organized the Health Center's collection. "This translated into 9,229 and a half units of controlled drugs—that includes tablets, capsules and patches—and 3,046 milliliters of liquid narcotics."
The DEA says collectively, the Connecticut sites accepted more than 5,000 pounds of unneeded and unwanted prescription drugs. There were more than 3,400 take-back locations nationwide.
"Properly disposing of medications that are expired or no longer of use is a matter of public safety and environmental responsibility," Dobbins says. "Collections like this ensure that these medications don't end up in the water supply or in the hands of anyone other than their original intended user."
More than 40 volunteers staffed the Health Center collection September 25.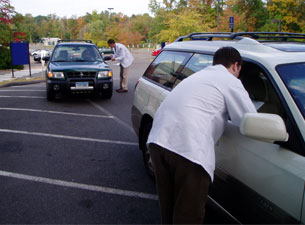 Volunteers collect unwanted medications from drivers in front of the Medical Arts and Research Building.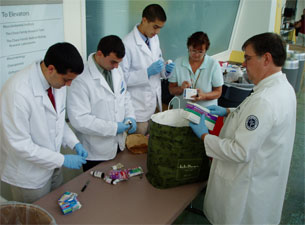 Volunteers sort through and record the collected medications.