RSS
Watch the Video
Feature Story
Health Center Today, September 15, 2010
Shared Governance Campaign Kicks Off with Fair and Open House
By Carolyn Pennington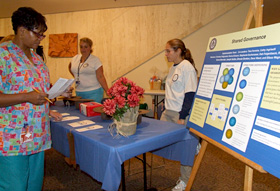 Shared Governance fair in Keller Lobby on September 14.
Photo by Chris DeFrancesco
"Your voice, one voice" is the slogan for the Shared Governance campaign now underway at the Health Center. It kicked-off with a fair and open house in an effort to help educate employees about the new process.
"Shared Governance empowers everyone in shared-decision making," says Ellen Leone, associate vice president of clinical operations. "It uses a formal multidisciplinary structure that promotes communication, collaboration, and accountability within the Health Center community."
The Shared Governance structure involves:
Patient – the patient is the center and primary focus.
Unit – unit based meetings allow staff to address issues.
Circle – circles are groups of related units meeting routinely to promote solutions from the unit level, fostering communication and teamwork.
Clinical – clinical council responds to concerns and develops best evidence-based practice.
Professional – professional council promotes continuing education and staff development to maintain a healthy work environment.
Leadership – leadership council provides oversight and support of council structure and function.
The purpose of Shared Governance is to establish a system in which staff participates fully in all activities that have an impact on their work and their ultimate goal of meaningful patient care.
It also serves as a cornerstone for achieving Magnet Status. Magnet Status is awarded to hospitals that satisfy criteria designed to measure the strength and quality of their nursing. For instance, hospitals where nursing delivers excellent patient outcomes, where nurses have a high level of job satisfaction and where there is a low turnover rate for staff nurses.
"Shared Governance has several goals including providing the best clinical practice and quality patient care, as well as enhancing our workplace and improving employee satisfaction," explains Leone. "You will be hearing much more about this process in the weeks and months ahead and we're urging everyone to get involved."
For more information on Shared Governance, visit http://sharedgovernance.uchc.edu.