Feature Story
Health Center Today, September 24, 2010
South Park 5k October 3 Includes Free Skin Cancer Screenings
By Chris DeFrancesco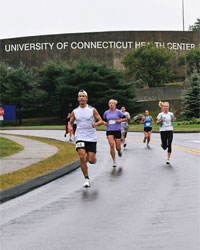 Runners make their way down the hill in the 2009 South Park 5k Road Race.
For a 13th year, the students who run the UConn School of Medicine Outreach Clinic at the South Park Inn are holding the South Park 5k Road Race and Fitness Walk at the Health Center.
The race and walk, the primary annual fundraising event for the South Park Inn medical clinic, will take place Sunday, October 3. Once again this year, it will include free melanoma and skin cancer screenings.
The clinic provides free primary care medical services to the transient residents of the South Park Inn Shelter in Hartford and is run by medical students and local physician volunteers.
UConn Health Center dermatology faculty, residents and attending physicians will provide screenings from 8 to 11 a.m. at the Dowling North Building. They also will teach patients how to detect melanoma when itís in its earliest, most treatable stage.
The race starts at 9 a.m., with registration starting at 7 a.m. at Dowling North. There will be music and food in addition to the skin cancer screenings. Online registration is available at http://fitsweb.uchc.edu/student/southpark.
The free screenings are part of a national campaign to encourage early detection and teach prevention of skin cancer. More than a million new cases of skin cancer will be diagnosed in the United States this year, according to the American Academy of Dermatology. Melanoma is the deadliest form of skin cancer.
For more information, contact John Kelly (jkelly@student.uchc.edu), Loreen Fournier (603-721-6168 or lfournier@student.uchc.edu), or UConnLink (800-535-6232 or 860-679-7692).