Feature Story
Health Center Today, April 18, 2011
Aging Research Day Returns for Second Year
By Chris DeFrancesco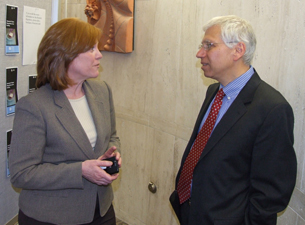 Dr. Anne Kenny (left) is a collaborator with the University of Maryland School of Medicine's Jay Magaziner on a study of how exercise affects hip fracture patients' recovery.
Photos by Chris DeFrancesco
A nationally renowned researcher who's been the brains behind three decades of research known as "The Baltimore Hip Studies" headlined UConn's Aging Research Day April 18.
Jay Magaziner, professor and chair of the University of Maryland School of Medicine Department of Epidemiology and Preventive Medicine and director of its Division of Gerontology, detailed how hip fracture is a "multifaceted problem which requires multiple treatments and interventions."
Magaziner was introduced by Richard Fortinksy, professor of medicine and Physicians Health Services Endowed Chair in Geriatrics and Gerontology. Fortinsky and Dr. Anne Kenny, professor of medicine and UConn Health Center geriatrician, are collaborating with Magaziner on a study of the role of exercise in a hip fracture patient's ability to walk again.
The second annual Aging Research Day, subtitled "Improving Outcomes in Older Adults Through Research and Evidence-based Practice," coincides with the UConn Center on Aging's 25th anniversary.
"This is an important accomplishment for a 'young' medical school and a prime example of a multidisciplinary center which has brought together clinicians, educators and scientists from across many different disciplines, professions and schools," says Dr. George Kuchel, Center on Aging director.
Half the presentations were from UConn faculty:
Poster Awards
Four presenters tied for the Basic Research category:
Xin Zhou, postdoctoral fellow:
"The Role of Memory T-cell Subset Secreted Cytokines on Influenza Cytotoxic CD8+ T-cells."
Anthony DeAngelis, postdoctoral fellow:
"The Role of Macrophage Migration Inhibitory Factor (MIF) in the Pathogenesis of Detrusor Underactivity."
Dr. Philip P. Smith, assistant professor of surgery (three abstracts):
"Does Defective Volume Sensation Contribute to Detrusor Underactivity?"
"An Expanded Model of Pressure/Flow Mouse Cystometry."
"Maturation, not Aging, Is Associated with Altered Urine Storage and Voiding in an Aging Mouse Cystometric Model."
Tahereh Ziafazeli, postdoctoral fellow:
"Drosophila melanogaster as a model system to study macrophage migration inhibitory factor (MIF)."
Two presenters tied for the Clinical Community Based Research category:
Heather Hutchins-Wiese, postdoctoral fellow:
"Polyunsaturated Fatty Acids and Antioxidants Impact Frailty and Physical Performance in Older Postmenopausal Women."
Eric Gaier, M.D./Ph.D. candidate:
"High Serum Cu and Cu/Zn Ratios Correlate with Impairments in Bone Density, Physical Performance and Overall Health in a Population of Frail Elderly Men."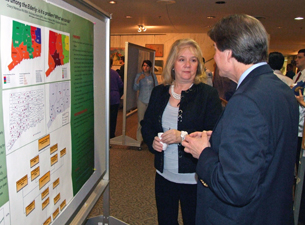 M.P.H. student Cheryl Marenick discusses her poster presentation, about disparities relative to elderly patient falls, with Richard Fortinsky in the Keller Lobby.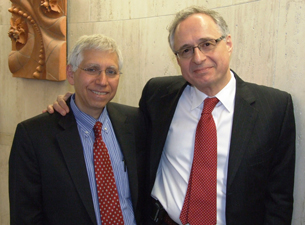 Magaziner, with Dr. George Kuchel (right), was the keynote speaker for UConn's second annual Aging Research Day.