Feature Story
Health Center Today, April 12, 2011
UConn Firefighters Provide CPR/AED Training for Avon Volunteers
By Laura Phillips Ward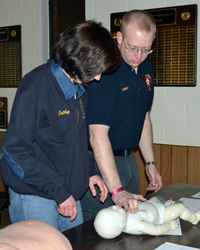 Tony Ruggerio showing Cathy Walter how to do CPR on an infant.
Photos courtesy of
Laura Phillips Ward
Health Center firefighters are providing lifesaving training for the Avon Volunteer Fire Department (AVFD). The Avon volunteers are in the process of certifying and recertifying all their members in cardiopulmonary resuscitation (CPR), including using an automated external defibrillator (AED). The UConn firefighters are providing the training free of charge at a savings of approximately $3,000.
"We've always appreciated the strength of our relationship with the UConn Fire Department," says AVFD Chief Michael Trick. "The value UConn's emergency responders deliver to the Farmington Valley is immeasurable, and their donation is an incredible contribution to our partnership, serving to better equip our members with critical knowledge and tools when we respond to calls."
Staffed entirely by volunteers, the AVFD has 155 members – including 68 firefighters. It provides CPR/AED certification training for all its firefighters every two years. Members are trained to the level of professional rescuer.
"The CPR/AED training really serves a dual purpose," says AVFD Capt. Chris Kunzelmann. "With cardiac death as the number one killer of firefighters, we are learning how to save ourselves. But also, though it's not our primary mission to provide medical services, we are arming ourselves with invaluable skills to better serve our community."
When presented with the chance to help the AVFD, the UConn Fire Department didn't think twice. Most of the department's members are certified to teach CPR and six immediately stepped up to instruct AVFD members.
Eric Colantonio providing instruction to AVFD Capt. Chris Kunzelmann (left) and AVFD Firefighters Jim Speich (back, right) and Jeff Petersen (front, right).
"We're thrilled for the opportunity to expand upon the way we serve the Farmington Valley by giving back to the Avon community in such a direct way," says UConn Fire Department Capt. Christopher Brewer. "Training is UConn's mission. Volunteering our services to train a volunteer fire department we work with day in and day out is a win-win. We're with these guys on calls all the time – they help us and we help them."