RSS
Watch the Video
Dr. Trojian on "Leatherneck and Lace"
Feature Story
Health Center Today, April 7, 2011
New Football Coach Is Special Guest at Sports Injury Program
By Chris DeFrancesco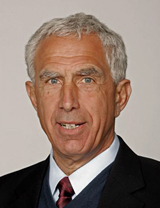 UConn football coach Paul Pasqualoni is the featured guest at a sports injury program at the UConn Health Center April 11.
Having joined UConn as its 28th head football coach earlier this year, Paul Pasqualoni may be new to the school, but he's no stranger to the game. And anyone who coaches a collision sport like football for four decades is bound to pick up a thing or two about sports injuries.
On Monday, April 11, Pasqualoni will join sports medicine experts from the New England Musculoskeletal Institute for a free program, "Care of the Collision Athlete," at the UConn Health Center.
Dr. Robert Arciero, chief of the UConn Health Center's Sports Medicine Division, Dr. Thomas Trojian, director of the UConn Health Center's Injury Prevention and Sports Outreach Programs, and Dr. Thomas DeBerardino, an orthopaedic surgeon specializing in sports medicine and joint preservation, will cover topics including anterior cruciate ligament (ACL) injuries, concussions, and shoulder separations.
Pasqualoni will discuss changes he's seen with collision athletes over the years. He will be available for autographs after the formal speaking program.
The program also will include remarks from Dr. Jay Lieberman, director of the New England Musculoskeletal Institute, as well as orthopaedic surgeons Drs. Augustus Mazzocca and Kevin Shea.
Collision injuries are not exclusive to football. They can occur in soccer, lacrosse, baseball, hockey, and even basketball.
The program is open to all athletes of all ages and starts at 7 p.m. in the Low Learning Center. For more information or to register, call 800-535-6232.